Simplified Steps to Delete Your Gmail Account
3 min read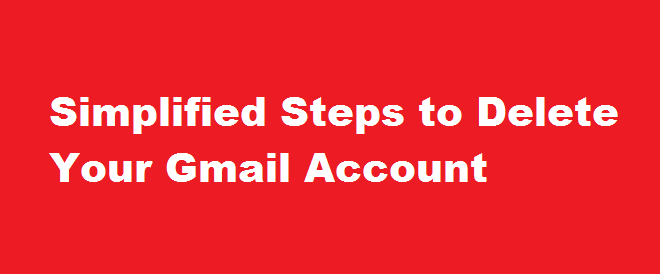 Introduction
Deleting your Gmail account can be a significant decision, whether you're looking to declutter your online presence or switch to a different email provider. This article aims to provide you with a step-by-step guide on how to delete your Gmail account while offering important considerations and alternative options.
Backup Your Data
Before proceeding with deleting your Gmail account, it's crucial to back up any important data and information stored in your account. Take the time to download and save any necessary emails, contacts, or files to your computer or an external storage device. This ensures that you won't lose any crucial data that might be useful in the future.
Accessing Gmail Account Settings
To initiate the process of deleting your Gmail account, log in to your account using your credentials. Once logged in, click on the gear icon located in the top-right corner of the Gmail interface. From the drop-down menu, select "Settings" to access the account settings page, where you'll find various options related to your account.
Within the Gmail settings page, locate and click on the "Accounts and Import" tab. This section provides you with options to manage your account and import emails or contacts from other accounts. Scroll down to find the "Change account settings" section, which includes the "Delete a service or your account" link. Clicking on this link will guide you further into the deletion process.
Deleting Your Gmail Account
After clicking on "Delete a service or your account," you'll be directed to a new page where you'll find different options for managing your Google account. To delete your Gmail account specifically, click on the "Delete a Google service" option. You'll then be prompted to re-enter your account password for verification purposes. Select the trash bin icon next to "Gmail" and follow the subsequent instructions to permanently delete your Gmail account.
Post-Deletion Considerations
Once your Gmail account is deleted, be aware that you'll lose access to all associated emails, contacts, and other information. Consider the following
Email forwarding – Set up email forwarding to ensure you don't miss any important messages during the transition period.
Account recovery – Take note of other accounts or services linked to your Gmail account and update them with an alternate email address.
Data removal – To protect your privacy, remove any personal information associated with your account, such as profile pictures and personal details.
FREQUENTLY ASKED QUESTIONS
How do I mass delete 1000 emails in Gmail?
Log in to your Gmail account.
Check the box at the top of your inbox, to the left of the refresh button. This will select all the emails displayed on the first page.
Click the blue text that reads, Select all X conversations in Primary.
Click the delete button, which looks like a trash can. 
Conclusion
Deleting a Gmail account is a straightforward process, but it requires careful consideration and preparations. Remember to back up essential data, navigate through the account settings, and follow the deletion steps provided. Additionally, consider the post-deletion actions to minimise any potential inconvenience. By following these steps, you can confidently delete your Gmail account and explore alternative email options that better suit your needs.
Read Also : A Comprehensive Guide to Depositing TDS on The Purchase of Property