Cracking The IAS Exam in Your First Attempt Strategies for Success
4 min read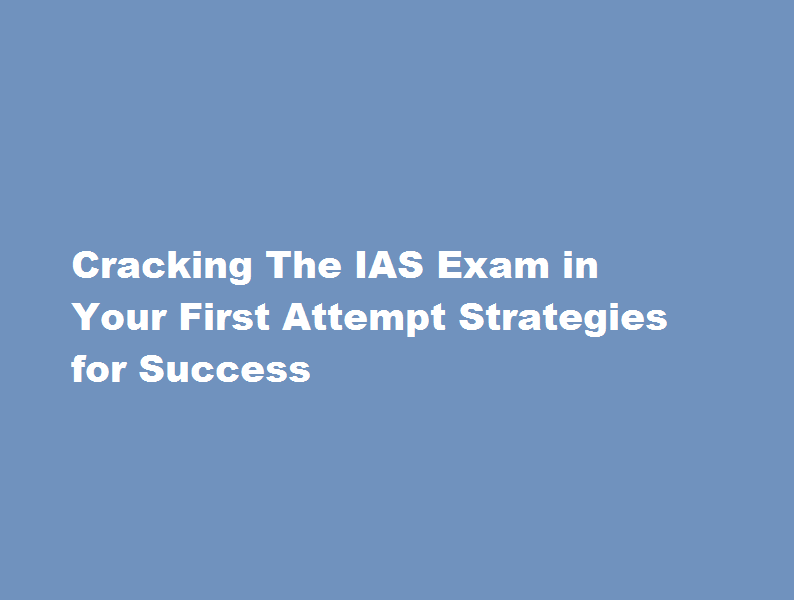 Introduction
The Indian Administrative Service (IAS) exam is one of the toughest competitive exams in India. Aspiring candidates often face numerous challenges while preparing for this prestigious examination. However, with the right approach and strategic planning, it is indeed possible to crack the IAS exam in your first attempt. In this article, we will discuss some essential tips and techniques that can help you prepare effectively and increase your chances of success in the IAS exam.
Understand the Exam Pattern and Syllabus
Before diving into your preparations, it is crucial to thoroughly understand the IAS exam pattern and syllabus. Familiarise yourself with the various stages of the exam, including the Preliminary Examination, Main Examination, and Interview. Study the prescribed syllabus and create a detailed study plan that covers all the topics. This understanding will help you allocate your time and resources efficiently and develop a comprehensive study strategy.
Gather Reliable Study Materials
The next step is to gather reliable study materials for your preparation. Refer to standard textbooks, previous years' question papers, and recommended reference books. Additionally, make use of online resources, such as reputable websites, educational platforms, and e-learning portals that provide comprehensive study material, mock tests, and current affairs updates. Remember to choose quality over quantity when selecting study materials, as it will help you grasp the concepts better and save time during your preparation.
Create a Structured Study Plan
A well-structured study plan is crucial for effective IAS exam preparation. Divide your syllabus into manageable segments and allocate specific time slots for each topic. Set achievable daily, weekly, and monthly targets to ensure steady progress. Make sure to include dedicated time for revision and practice tests. A structured study plan will help you stay organised, track your progress, and ensure that you cover all the important topics thoroughly.
Focus on Conceptual Clarity
The IAS exam demands a deep understanding of the concepts rather than rote memorization. Focus on building a strong foundation by grasping the underlying principles and theories. Clear your doubts promptly, seek guidance from experienced mentors, and engage in group discussions with fellow aspirants. Regularly revise the topics and reinforce your conceptual understanding through practice questions and sample papers. By developing conceptual clarity, you will be better equipped to handle complex questions and analytical problems in the exam.
Practise Mock Tests and Previous Years' Papers
Regular practice through mock tests and solving previous years' question papers is indispensable for cracking the IAS exam. Mock tests simulate the actual exam environment and help you become familiar with the exam pattern, time management, and question types. Analyse your performance in each mock test, identify your strengths and weaknesses, and focus on improving your weak areas. Additionally, solving previous years' papers will give you an insight into the recurring topics and question patterns, allowing you to prioritise your preparation accordingly.
Stay Updated with Current Affairs
Current affairs play a crucial role in the IAS exam, particularly in the Preliminary Examination and the Interview. Stay updated with national and international news, government policies, social issues, and economic developments. Read newspapers, magazines, and reliable online sources regularly to enhance your awareness. Maintain concise notes of important events and issues to facilitate quick revisions. Additionally, participate in group discussions and debates to develop a well-rounded perspective on various topics, which will prove beneficial during the interview stage.
Frequently Asked Questions
Can anyone clear the IAS exam in the first attempt?
The UPSC civil services exam is considered one of the toughest exams in India. On average, candidates take more than 2 attempts to clear this exam. But every year, there are several candidates who clear the UPSC exam in their very first attempt. Some of them even go on to top the exam with high marks.
What is the 80 20 rule for UPSC?
The principle states that 20% of the invested input accounts for 80% of the results achieved.
Conclusion
Cracking the IAS exam in your first attempt requires diligent preparation, dedication, and a strategic approach. Understand the exam pattern and syllabus, gather reliable study materials, and create a structured study plan to streamline your preparation. Focus on building conceptual clarity, practising mock tests, and solving previous years' papers. Stay updated with current affairs and enhance your understanding through group discussions and debates. Remember, perseverance and consistency are key to success in this challenging examination. By following these strategies, you can increase your chances of cracking the IAS exam and embarking on a rewarding career in public service.
Read Also :  The Path to Securing a Government Job Strategies for Success