A Step-by-Step Guide on How to Delete Your Telegram Account
3 min read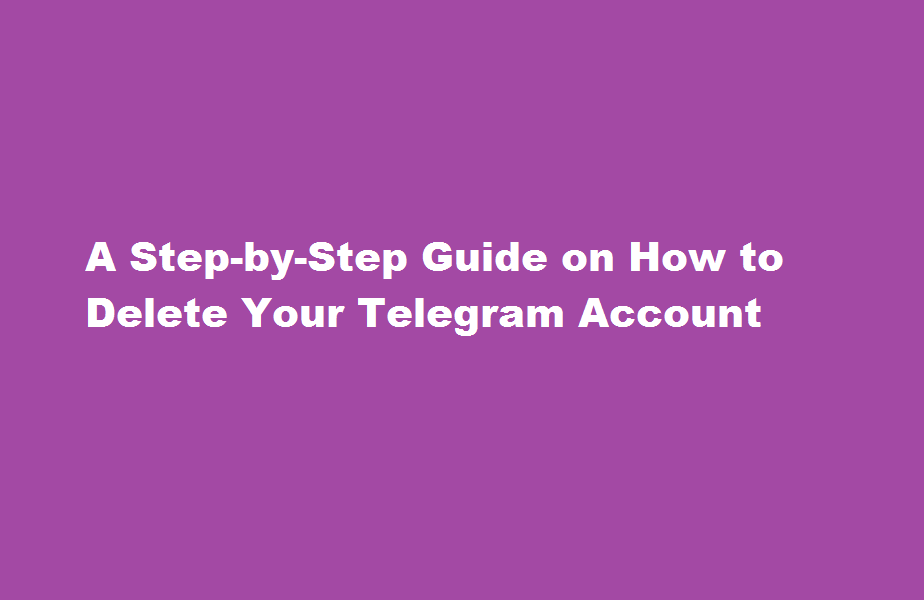 Introduction
Telegram is a popular messaging app known for its security features and user-friendly interface. However, there may come a time when you decide to delete your Telegram account for various reasons. Whether it's for privacy concerns, a need to declutter your digital presence, or simply a desire to switch to a different messaging platform, this article will provide you with a comprehensive step-by-step guide on how to delete your Telegram account.
Backup your data
Before you proceed with deleting your Telegram account, it's crucial to back up any important data you wish to retain. Telegram offers a built-in feature that allows you to export your chats, media files, and other relevant information. To do this, open Telegram, go to 'Settings,' tap on 'Chat Settings,' select 'Export Telegram Data,' and choose the data you want to back up. This ensures that you won't lose any valuable conversations or media during the deletion process.
Visit Telegram's account deactivation website
To delete your Telegram account, you'll need to visit the official Telegram account deactivation webpage. Open your preferred web browser and go to 'my.telegram.org/auth.' Sign in with your Telegram account credentials to access the account management page.
Select 'Delete Account
Once you're logged in, scroll down the account management page until you find the 'Delete Account' section. Click on the 'Delete Account' button to proceed. Telegram will prompt you with a warning message explaining the consequences of deleting your account, including the fact that all your messages, groups, and contacts will be permanently removed.
Enter your phone number
To ensure the account deletion request is genuine, Telegram requires you to enter the phone number associated with your account. Type in the correct phone number without any country codes or additional symbols. Take extra care when entering your phone number to avoid any errors.
Confirm your decision
After entering your phone number, click on the 'Next' button. Telegram will display a confirmation message asking you to reconfirm your decision to delete your account. This serves as a final opportunity to reconsider your choice. If you're certain about deleting your account, click on the 'Yes, delete my account' button to proceed.
Provide feedback
Telegram values user feedback. After confirming the deletion of your account, the platform will present you with a feedback form. This optional form allows you to provide insights on your experience and reasons for leaving Telegram. Providing feedback can help Telegram improve its services and address any issues users may have encountered.
Frequently Asked Questions 
How do Telegram accounts get deleted?
By default, Telegram deletes accounts after 6 months of inactivity to save space on its servers. This means that if you do not log in to or use your Telegram account for 6 months then it will be deleted automatically.
How many days should I wait to recreate a Telegram account?
If you decide to create a new account, you'll have to wait a few hours or even up to a few days. Your phone number will be blocked on Telegram during this time. But after that, you should have no problem making a new account.
Conclusion
Deleting your Telegram account is a straightforward process that ensures your data and conversations are permanently removed from the platform. By following the step-by-step guide outlined in this article, you can confidently delete your account when needed. Remember to back up any important data before proceeding and carefully consider your decision before confirming the deletion. It's worth noting that once the account is deleted, it cannot be recovered, and all associated data will be lost. Whether you're seeking a break from social media, switching to a different messaging app, or prioritising your digital privacy, deleting your Telegram account empowers you to take control of your online presence.
Read Also : Mastering The Art of Deleting Pages in Microsoft Word