Deleting Your YouTube Channel A Step-by-Step Guide
3 min read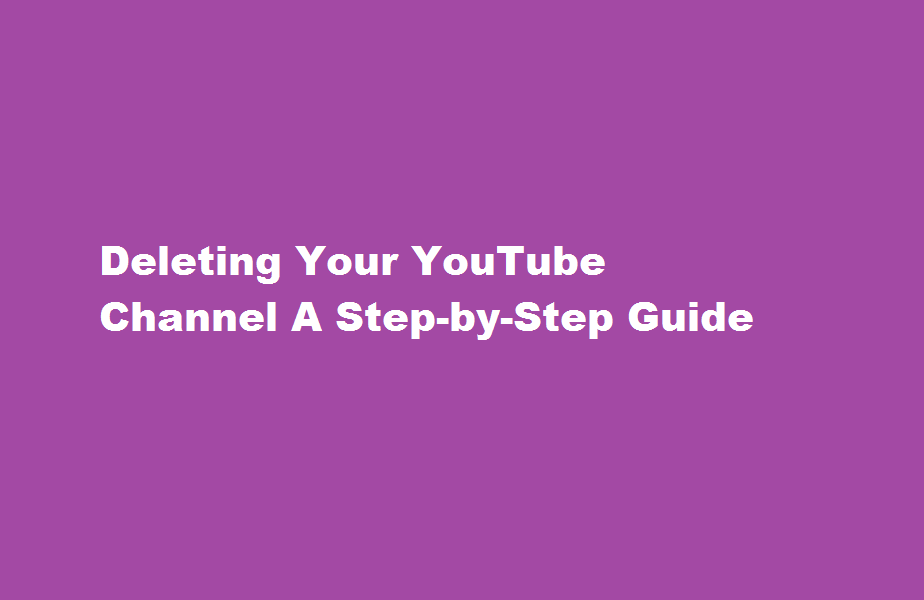 Introduction
YouTube has become an integral part of our lives, offering a vast range of entertaining and educational content. However, there may come a time when you decide to delete your YouTube channel for various reasons. Whether you're looking for a fresh start or want to discontinue your online presence, this article will provide you with a comprehensive step-by-step guide on how to delete your YouTube channel.
Sign In to Your YouTube Account
To begin the process, open your web browser and go to www.youtube.com. Sign in to your YouTube account using your email address and password associated with the channel you wish to delete. Ensure you are signed in to the correct account to avoid any unintentional actions on other channels.
Access YouTube Studio
Once signed in, click on your profile picture located in the top-right corner of the YouTube homepage. A drop-down menu will appear; select "YouTube Studio" from the options provided. YouTube Studio is the hub for channel management and customization.
Within YouTube Studio, locate and click on "Settings" in the left-hand sidebar. From the expanded menu, select "Channel" and then "Advanced settings." This will take you to the channel settings page, where you can modify various aspects of your channel.
Delete Channel
Scroll down the page until you find the "Delete Channel" section. Click on the link that says "Delete Channel" to proceed. YouTube will prompt you to re-enter your password as a security measure. Once you've entered your password, click "Delete my content" to initiate the deletion process.
Verify Your Intent
YouTube will display a confirmation message to ensure that you genuinely want to delete your channel. Take a moment to carefully read the information provided. Keep in mind that this process is irreversible, and once deleted, your channel, videos, comments, and subscriptions will be permanently lost. If you're certain about deleting your channel, click "Delete my channel" to confirm.
Wait for Deletion
After confirming, YouTube will begin the process of deleting your channel. The time it takes to complete the deletion can vary depending on the size of your channel and the number of videos you have uploaded. Be patient during this period and avoid attempting to undo the process, as it is irreversible.
Frequently Asked Questions
Why can't I delete a YouTube channel?
Click on "Settings" from the dropdown menu. On the left-hand side of the screen, click on "Advanced settings." At the bottom of the "Account Information" section, click on "Delete channel." Follow the prompts to select a reason for deleting your channel and confirm the deletion.
Can a YouTube account get deleted?
Reasons channels or accounts can be terminated: Repeated violations of the Community Guidelines or Terms of Service across any form of content (like repeatedly posting abusive, hateful, and/or harassing videos or comments) A single case of severe abuse (such as predatory behaviour, spam, or pornography). 
Conclusion
Deleting your YouTube channel can be a significant decision, but if you have carefully considered the consequences and are certain about your choice, following the steps outlined above will guide you through the process. Remember to back up any important content before initiating the deletion, as all your videos and associated data will be permanently removed. If you change your mind in the future, creating a new channel is always an option. Stay informed and make choices that align with your goals and aspirations in the online world.
Read Also : Effective Techniques for Massage to Relieve Back Pain