Ignite The Spirit of Innovation A Guide to Participating in Rashtriya Avishkar Abhiyan (RAA)
4 min read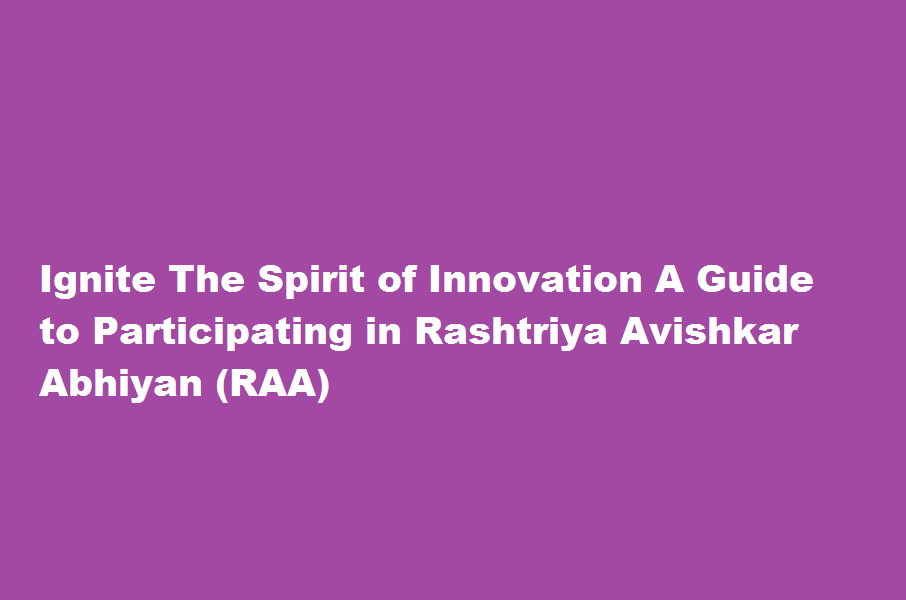 Introduction
The Rashtriya Avishkar Abhiyan (RAA) in India is a dynamic program that aims to foster a culture of innovation, creativity, and scientific research among school students. By actively participating in RAA, students can engage in hands-on learning, problem-solving, and critical thinking. This article provides a comprehensive guide on how to take part in RAA, highlighting the eligibility criteria, enrollment process, and the numerous benefits associated with this transformative initiative.
Understanding Rashtriya Avishkar Abhiyan (RAA)
RAA, launched by the Ministry of Human Resource Development, encourages students to explore scientific concepts, develop innovative solutions, and apply their learning to real-world challenges. The program promotes active learning methodologies and aims to nurture a spirit of curiosity, creativity, and entrepreneurship among students.
Eligibility Criteria for RAA
To participate in RAA, students must fulfill the following criteria
Students from government schools, Kendriya Vidyalayas (KVs), Jawahar Navodaya Vidyalayas (JNVs), and Central Board of Secondary Education (CBSE) affiliated schools are eligible to participate.
The program is generally targeted at students from classes 6 to 12, although specific grade-level participation may vary depending on the guidelines set by the respective educational institutions.
Enrollment Process for RAA
To actively participate in RAA, follow these steps
Check with your school or educational institution to determine if they are registered under RAA.
Express your interest in participating in RAA to your school authorities or science teachers.
Submit any required application forms or documents as per the guidelines provided by your school or educational institution.
If your school is registered under RAA, you will be guided through the various activities, projects, and events organized under the program.
Activities and Projects under RAA
RAA offers a wide range of activities and projects to ignite the spirit of innovation and scientific research. Some of the key initiatives include
Design and Innovation Students are encouraged to identify real-world problems and develop innovative solutions using scientific principles.
Science Exhibitions RAA organizes science exhibitions at the school, district, state, and national levels, providing a platform for students to showcase their scientific projects and discoveries.
Model Making and Prototyping Students can engage in hands-on activities by building models, prototypes, and working models to understand scientific concepts better.
Science Clubs and Workshops RAA supports the establishment of science clubs and organizes workshops to enhance students' practical knowledge and scientific skills.
Benefits of Participating in RAA
Participating in RAA offers several benefits, including
Enhanced Scientific Aptitude RAA fosters a deeper understanding of scientific concepts, nurturing a passion for innovation and research among students.
Skill Development Students gain critical thinking, problem-solving, and teamwork skills through active participation in RAA activities and projects.
Exposure and Recognition RAA provides opportunities for students to showcase their talents, compete at various levels, and receive recognition for their innovative ideas and projects.
Career Opportunities Participation in RAA cultivates a strong foundation in science, opening doors to diverse career opportunities in STEM fields.
Holistic Development RAA promotes an interdisciplinary approach, fostering the overall development of students by integrating scientific knowledge with practical applications.
Frequently Asked Questions (FAQs)
Can students from private schools participate in RAA?
As of now, RAA primarily focuses on government schools, Kendriya Vidyalayas (KVs), Jawahar Navodaya Vidyalayas (JNVs), and CBSE-affiliated schools. However, it's advisable to check with the concerned authorities or RAA coordinators for any specific provisions for participation from private schools.
How can teachers support students in participating in RAA?
Teachers can actively encourage and guide students to explore innovative ideas, participate in RAA activities, and assist them in developing and executing science projects. They can also collaborate with other teachers and share best practices to create a conducive learning environment.
Are there any financial implications or fees associated with participating in RAA?
RAA activities and projects do not generally require any fees or financial implications. The program aims to provide equal opportunities for all students, irrespective of their financial background.
While RAA primarily emphasizes science-related projects, it encourages an interdisciplinary approach, allowing students to integrate knowledge from various subjects like mathematics, technology, and social sciences to address real-world challenges creatively.
Conclusion
Participating in Rashtriya Avishkar Abhiyan (RAA) offers a unique opportunity for students to nurture their scientific aptitude, innovation, and problem-solving skills. By actively engaging in RAA activities and projects, students can ignite their curiosity, expand their knowledge, and develop a strong foundation in science and technology. If you meet the eligibility criteria, seize the chance to participate in RAA and embark on an exciting journey of exploration and discovery in the world of innovation and scientific research.
Read Also : Empowering Women in Technical Education A Guide to Participating in Pragati