A Step-by-Step Guide on How to Participate in The National Digital Library of India (NDLI)
4 min read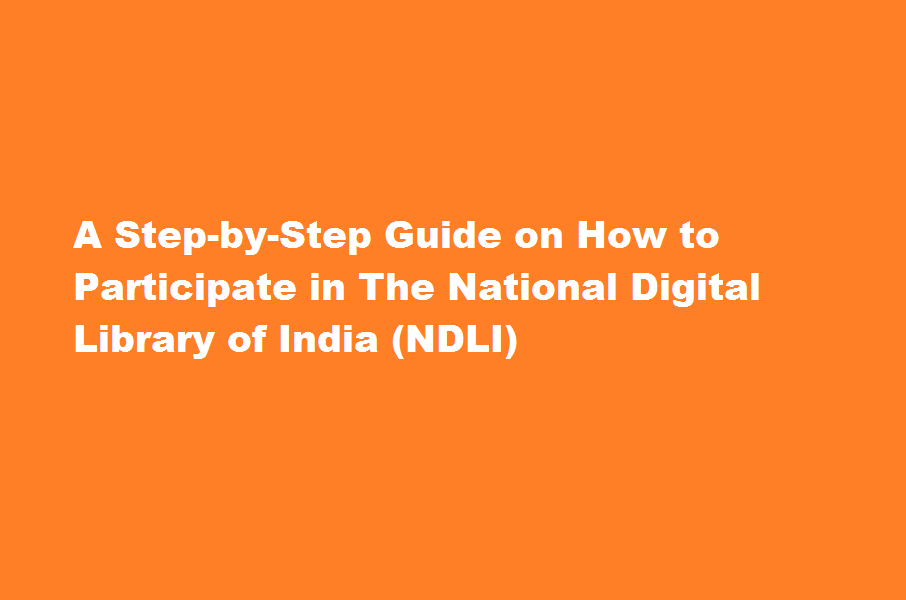 Introduction
The National Digital Library of India (NDLI) is an initiative that aims to provide free access to a wide range of educational resources, including books, journals, videos, and more. With a vast collection of digital materials, the NDLI serves as a valuable platform for students, researchers, and educators. In this comprehensive guide, we will walk you through the process of participating in the National Digital Library of India (NDLI) and highlight the benefits it offers.
Visit the NDLI Website
To participate in the NDLI, start by visiting the official website. The NDLI platform is accessible via web browsers, making it convenient to access from any device with an internet connection.
Register for an Account
To fully access and utilize the features of the NDLI, it is recommended to create an account. Registration is typically free and requires providing basic information such as your name, email address, and a password. Creating an account allows you to personalize your experience and save resources for future reference.
Explore the Collection
Once registered, you can begin exploring the vast collection of educational resources available on the NDLI platform. Use the search bar or browse through different categories to find specific books, articles, journals, videos, or other materials relevant to your interests or studies.
Access and Download Resources
When you find a resource of interest, you can access it directly from the NDLI platform. Many resources are available in multiple formats, including PDF, ePUB, and audio formats. Depending on the resource, you may have the option to read or listen to it online or download it for offline access.
Interact and Engage
The NDLI platform often provides features for users to interact and engage with the content and other users. This may include options to leave comments, rate resources, share recommendations, and participate in discussion forums. Take advantage of these features to connect with fellow learners and share insights or ask questions.
Benefits of Participating in the National Digital Library of India (NDLI)
Access to a Vast Collection of Resources By participating in the NDLI, you gain access to a vast collection of educational resources, including textbooks, research papers, scholarly articles, and multimedia content. This provides you with a wealth of knowledge and reference materials for various academic disciplines.
Convenience and Flexibility The NDLI platform allows you to access educational resources anytime and anywhere. Whether you are a student, researcher, or lifelong learner, you can conveniently access materials at your own pace and study according to your schedule.
Cost Savings The NDLI eliminates the need to purchase physical books or pay for expensive journal subscriptions. It offers a wide range of resources for free, helping you save money on educational materials.
Frequently Asked Questions
Is the National Digital Library of India (NDLI) accessible only to students?
No, the NDLI is accessible to everyone, including students, researchers, educators, and the general public. Anyone interested in accessing educational resources can participate in the NDLI.
Are all resources on the NDLI platform available for free?
Yes, the NDLI platform provides access to a significant number of resources for free. However, there might be some resources that require a subscription or may be available for a fee. It is advisable to check the resource details for any applicable charges.
Can I contribute to the NDLI by uploading my own content?
Yes, the NDLI welcomes contributions from individuals and institutions. If you have educational resources that you would like to contribute to the NDLI, you can explore the "Contribute" section on the platform's website for more information on the submission process.
Can I access the NDLI offline?
While the NDLI platform primarily operates online, you may have the option to download certain resources for offline access. This allows you to access materials even when an internet connection is not available.
Conclusion
Participating in the National Digital Library of India (NDLI) provides you with a treasure trove of educational resources at your fingertips. By following the steps outlined in this guide, you can easily access and utilize the NDLI platform, explore its vast collection, and enhance your learning journey. The NDLI plays a vital role in promoting access to quality education and fostering a culture of lifelong learning in India.
Read Also : A Comprehensive Guide on How to Participate in Pradhan Mantri Gramin Digital Saksharta Abhiyan (PMGDISHA)