A Step-by-Step Guide on How to Download Movies on Mobile Devices
3 min read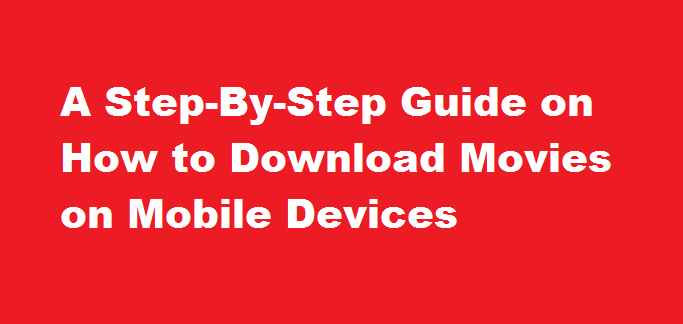 Introduction
With the advent of high-speed internet and the proliferation of smartphones, downloading movies on mobile devices has become a popular method for enjoying films on the go. Whether you're travelling, commuting, or simply prefer the convenience of watching movies on your mobile device, this article will provide you with a comprehensive guide on how to download movies on your smartphone. We will cover various methods, from legal streaming services to downloading through dedicated apps and websites. By following these steps, you'll be able to enjoy your favourite movies anytime, anywhere.
Utilise Legal Streaming Services
The easiest and most reliable way to download movies on your mobile device is by using legal streaming services. Popular platforms such as Netflix, Amazon Prime Video, Disney+, and Hulu offer the option to download movies for offline viewing. Here's how you can do it
Install the respective streaming app from your device's app store.
Sign up for an account or log in if you already have one.
Browse the movie library and select the film you wish to download.
Look for the download button or a similar option.
Choose the desired video quality and select the download option.
Wait for the download to complete and enjoy the movie offline.
Download Movies Using Dedicated Apps
Apart from streaming services, there are numerous dedicated apps that allow you to download movies directly to your mobile device. These apps provide access to a vast collection of movies and often offer features like subtitles and different video qualities. Here's how you can use such apps
Search for a reliable movie download app, such as Popcorn Time, MovieBox, or Showbox, and download it from a trusted source (since these apps may not be available on official app stores).
Install the app and launch it on your mobile device.
Browse through the movie library or use the search function to find a specific film.
Select the movie and choose the download option.
Depending on the app, you may have the option to choose the video quality and subtitles.
Wait for the download to finish, and once completed, you can find the movie in the app's downloaded section or in your device's storage.
Open your preferred video player app to watch the downloaded movie.
Download Movies from Websites
Another method to download movies on mobile devices is by visiting websites that offer free movie downloads. However, it's important to note that downloading copyrighted material without proper authorization may infringe upon intellectual property rights. If you choose to download movies from websites, exercise caution and ensure that you're doing so legally.
Open a web browser on your mobile device and search for websites that offer legal movie downloads.
Look for a reputable website that provides movies in your preferred language and genre.
Navigate to the movie section or search for the specific film you want to download.
Choose the desired video quality and select the download button.
Wait for the download to complete and locate the downloaded movie in your device's storage.
Use a suitable video player app to enjoy the movie on your mobile device.
FREQUENTLY ASKED QUESTIONS
Why movies are not downloading in my phone?
Old data and cache files can get corrupted or result in errors such as those you are facing. Open Settings and go back to Manage the app to search for Google Play Movies & TV. Inside, tap on Clear data at the bottom of the screen and select Clear all data.
Conclusion
Downloading movies on mobile devices has become a convenient way to enjoy films anytime, anywhere. By following the steps outlined in this guide, you can easily download movies using legal streaming services, dedicated apps, or from reputable websites. Remember to prioritise legal and authorised methods to ensure you're respecting intellectual property rights. Always be cautious while downloading content and use reliable sources. With these tips in mind, you can embark on a movie-watching journey on your mobile device with ease and peace of mind.
Read Also : A Step-by-Step Guide to Connecting Your Phone with a Laptop