A Comprehensive Guide on Booking IPL Tickets
3 min read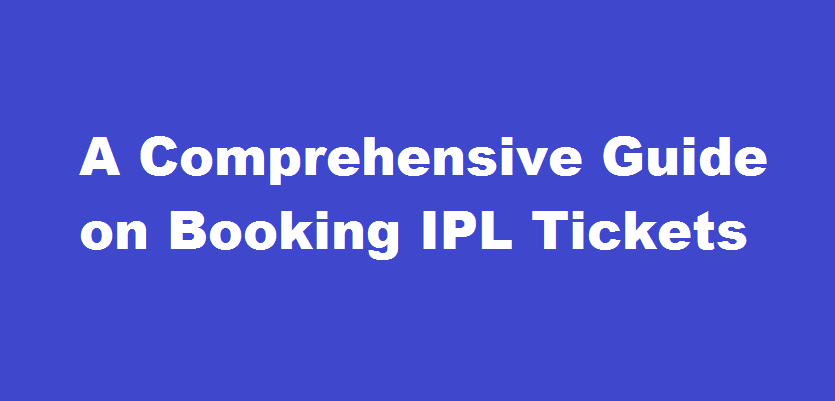 Introduction
The Indian Premier League (IPL) is one of the most awaited sporting events in India, attracting cricket enthusiasts from all over the world. To witness the thrilling matches live, it is essential to secure your IPL tickets in advance. In this article, we will provide you with a step-by-step guide on how to book IPL tickets hassle-free, ensuring an unforgettable experience.
Stay Updated
Before diving into the ticket booking process, it's crucial to stay informed about the IPL schedule, venue, and ticket sale announcements. Follow official IPL websites, social media accounts, and reliable sports news platforms to receive updates. Keep an eye out for ticket sale dates and any pre-registration requirements. Being well-informed will give you an edge in booking your desired seats.
Select Authorised Channels
To avoid scams or purchasing counterfeit tickets, it is important to book your IPL tickets through authorised channels. The official IPL website, team websites, and authorised ticketing partners are trustworthy sources. Be cautious of third-party websites or individuals claiming to sell tickets at exorbitant prices. Stick to reputable platforms to ensure a secure and legitimate ticketing experience.
Pre-Registration
Some IPL matches may require pre-registration to access ticket sales. Visit the official IPL website or the respective team's website to check if pre-registration is required. Fill in the necessary details, such as name, contact information, and the number of tickets required. Pre-registration allows organisers to gauge demand and streamline the ticket booking process.
Ticket Purchase
When the ticket sale begins, promptly visit the authorised ticketing platform to secure your seats. Follow these steps for a smooth ticket booking experience.
Select the Match and Venue: Choose the desired match and venue you wish to attend. Take note of the seating categories available, such as General, Premium, or VIP.
Choose the Number of Tickets: Indicate the number of tickets you want to purchase. Keep in mind any limitations on ticket quantity imposed by the organisers.
Select the Seats: Depending on the platform, you may have the option to choose specific seats or select a preferred seating section.
Review and Confirm: Before proceeding to payment, carefully review your ticket selection and ensure all details are accurate. Check the ticket prices and any additional charges, such as service fees.
Make Payment: Choose the preferred payment method and follow the instructions to complete the transaction securely. Keep the payment confirmation details for future reference.
Delivery or Collection
After successful payment, you will receive a confirmation email or SMS with your ticket details. Check the delivery options provided by the ticketing platform. You may have the choice to receive e-tickets via email, collect physical tickets from designated outlets, or opt for home delivery. Follow the instructions provided to obtain your tickets before the match day.
FREQUENTLY ASKED QUESTIONS
Can I book IPL tickets offline?
No, IPL tickets for 2023 cannot be booked offline. All ticket bookings must be made online through authorised ticketing platforms.
Conclusion
Booking IPL tickets can be an exciting process, but it requires careful planning and awareness. By staying updated, selecting authorised channels, and following the ticket booking steps outlined in this guide, you can secure your tickets hassle-free. Remember to book early, as tickets often sell out quickly. Get ready to immerse yourself in the electrifying atmosphere of the IPL and witness top-class cricket action firsthand.
Read Also : Mastering Back-End Development A Comprehensive Guide