Pradhan Mantri Jan Dhan Yojana How to Apply and Benefit from Financial Inclusion
4 min read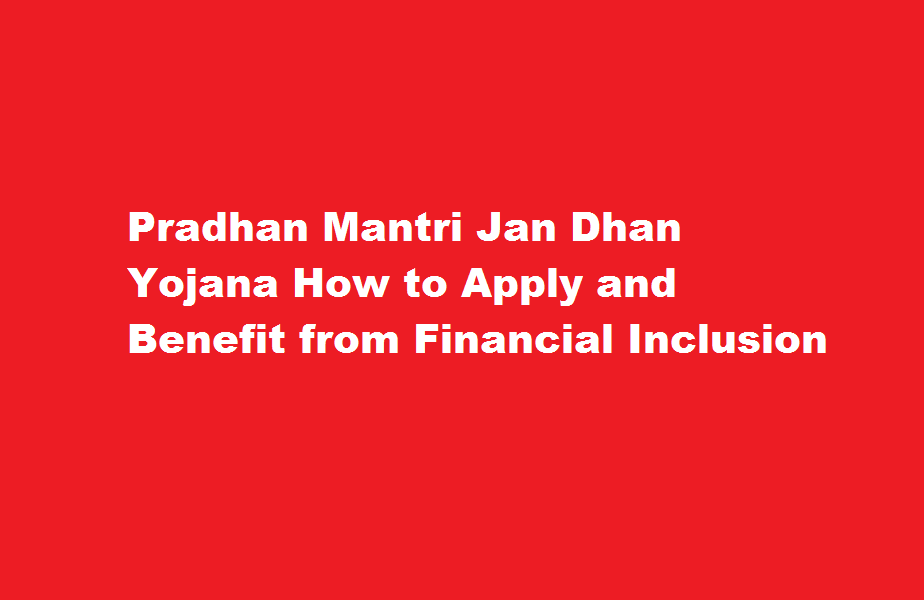 Introduction Pradhan Mantri Jan Dhan Yojana (PMJDY) is a flagship scheme launched by the Government of India to provide banking services and financial inclusion to all citizens. If you are looking to open a bank account and benefit from various government-backed schemes, this step-by-step guide will help you understand the process. Let's explore how you can apply for the Pradhan Mantri Jan Dhan Yojana and access the benefits it offers.
Understand the Objective of PMJDY Pradhan Mantri Jan Dhan Yojana aims to ensure financial inclusion by providing basic banking facilities to every household. The scheme promotes savings, enables direct benefit transfers, and facilitates access to various financial services such as insurance, credit, and pension schemes.
Gather the Required Documents To apply for PMJDY, you will need specific documents. These typically include proof of identity (such as Aadhaar card, PAN card, Voter ID), proof of address (such as Aadhaar card, utility bills, rent agreement), and a recent passport-sized photograph. Make sure you have these documents ready before proceeding.
Choose a Participating Bank PMJDY is implemented through various participating banks across India. You can choose a bank that is convenient for you or has a branch in your locality. Both public and private sector banks participate in the scheme. Visit the website or branch of the bank you prefer to obtain detailed information about their PMJDY account opening process.
Visit the Bank Branch Visit the selected bank branch where you wish to open your Jan Dhan account. Inform the bank representative about your interest in opening a PMJDY account. They will guide you through the process and provide you with the necessary account opening forms.
Fill the Account Opening Form Complete the PMJDY account opening form provided by the bank. Provide accurate information such as your name, address, date of birth, and other required details. Ensure that all information is filled correctly to avoid any issues with your account opening.
Submit the Required Documents Attach the necessary documents, such as proof of identity and proof of address, along with your completed account opening form. The bank representative will verify the documents and may request additional information if required. Make sure to carry original copies of the documents for verification purposes.
Provide Biometric Authentication Under PMJDY, biometric authentication is an essential part of the account opening process. Your fingerprints and iris scan will be recorded to link your Aadhaar card to your Jan Dhan account. Cooperate with the bank representative during this process to ensure a smooth account opening experience.
Receive Your Jan Dhan Account Details Once your account opening process is complete, the bank will provide you with your Jan Dhan account details, including the account number and passbook. Keep the account details safe and secure for future reference.
Access Benefits and Services By opening a Jan Dhan account through PMJDY, you gain access to several benefits and services. These include a RuPay debit card, overdraft facility, life insurance coverage, accident insurance coverage, and access to various government schemes and subsidies. Familiarize yourself with these benefits and utilize them as per your requirements.
Maintain and Utilize Your Jan Dhan Account To fully benefit from your Jan Dhan account, make sure to maintain regular transactions, save money, and make use of available financial services. Stay updated on any new government initiatives or schemes that you may be eligible for through your PMJDY account.
Conclusion Pradhan Mantri Jan Dhan Yojana is a significant step towards financial inclusion for every Indian citizen. By following this step-by-step guide, you now have a clear understanding of how to apply for PMJDY and access the benefits it offers. Open your Jan Dhan account today and empower yourself with financial stability, banking services, and the opportunity to avail various government schemes.
Frequently Asked Questions
Who is eligible to apply for Pradhan Mantri Jan Dhan Yojana? 
Pradhan Mantri Jan Dhan Yojana is open to all individuals above the age of 10 years. Even those who do not have any valid documents can apply for a Jan Dhan account under the scheme.
Can I open a joint account under PMJDY?
 Yes, PMJDY allows for joint accounts. You can open a joint Jan Dhan account with one or more family members. The joint account can provide financial security and convenience for your family.
Is there any minimum balance requirement for a Jan Dhan account? 
No, Jan Dhan accounts do not have a minimum balance requirement. These accounts can be opened with zero balance. However, if you wish to access additional banking services or benefits, maintaining a certain minimum balance may be required.
Can I convert my existing bank account into a Jan Dhan account? 
Yes, you can convert your existing bank account into a Jan Dhan account by providing the necessary information and documents required under the PMJDY guidelines. Contact your bank for more details on the conversion process.
Read Also : Investing on Groww App A Comprehensive Guide for Beginners