The Ultimate Guide How to Backup WhatsApp
3 min read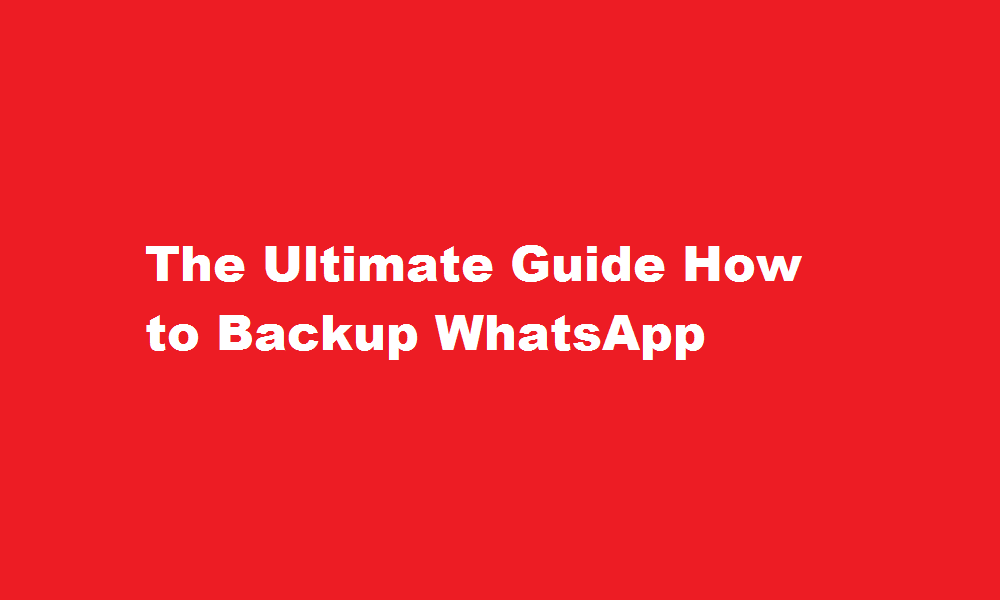 Introduction
WhatsApp has become an integral part of our daily lives, connecting us with friends, family, and colleagues. It's crucial to ensure the safety and security of our valuable conversations and media files. To avoid the risk of losing important WhatsApp data, it's essential to have a backup strategy in place. In this article, we will discuss different methods to backup WhatsApp, enabling you to preserve your cherished memories and conversations effortlessly.
Local Backup
The easiest way to backup WhatsApp data is by using the local backup feature. WhatsApp allows users to create automatic backups on their devices, whether it's an Android or an iOS device. On Android, navigate to "Settings" > "Chats" > "Chat backup" and choose the frequency of backups. For iOS users, go to "Settings" > "Chats" > "Chat Backup" to enable automatic backups. These backups are stored on your device's internal storage or iCloud, respectively. However, it's essential to note that local backups are susceptible to device damage, loss, or theft, and are not easily transferable to a new device.
Google Drive or iCloud Backup
To ensure the safety of your WhatsApp data and to make it easily transferable to a new device, you can utilize cloud storage platforms such as Google Drive (Android) or iCloud (iOS). On Android, open WhatsApp and go to "Settings" > "Chats" > "Chat backup." Link your Google account and select the frequency of backups. For iOS users, open WhatsApp and navigate to "Settings" > "Chats" > "Chat Backup." Connect your iCloud account and choose the backup frequency. With cloud backups, your WhatsApp data is securely stored, allowing you to restore it effortlessly on a new device or after reinstalling WhatsApp.
Third-Party Backup Apps
Several third-party apps are specifically designed to backup and restore WhatsApp data. These apps provide additional features and flexibility compared to native backup options. Some popular options include iMazing, Dr.Fone, and Backuptrans. These apps allow you to backup WhatsApp messages, media files, call logs, and more. They also offer the ability to selectively restore specific data to your device or export it to a computer. Before using third-party backup apps, ensure they are reputable and trustworthy by reading user reviews and checking for security certifications.
Manual Backup
In addition to automated backups, it's wise to create manual backups of your WhatsApp data periodically. This can be done by selecting the "Export Chat" option within a specific chat or group chat. You can choose whether to include media files or not. Manual backups are useful when you want to save specific conversations or when you need a quick backup before performing major actions, such as updating WhatsApp or switching devices.
FREQUENTLY ASKED QUESTIONS
Can you backup specific WhatsApp chats?
The easiest way to backup WhatsApp is with the built-in feature that lets you save your chats to either iCloud or Google Drive — on iOS or Android, respectively. Simply go into "settings," "chats" then "chat backup." Here, there will be a backup button and an auto-backup feature that you can set up.
Is it possible to recover WhatsApp chat history if I deleted my WhatsApp accidentally without backup?
In the context of how to restore deleted WhatsApp messages without backup on Android, there is a common belief that doing this is not possible. Luckily, that is not true. You can use recovery software for WhatsApp and the local backup to restore all deleted messages or restore deleted WhatsApp chat.
Conclusion
Backing up your WhatsApp data is crucial to prevent any potential loss of cherished memories, valuable conversations, or important media files. Whether you choose local backups, cloud storage, or third-party apps, it's essential to find a method that suits your needs and ensures the safety and accessibility of your data. Remember to regularly update your backups and test their restore functionality to ensure their reliability. By following these backup methods, you can enjoy peace of mind, knowing that your WhatsApp data is protected and easily recoverable in any situation.
Read Also : Preserving Precious Memories A Comprehensive Guide To Backing Up Photos