A Step-by-Step Guide to Becoming an Income Tax Officer
4 min read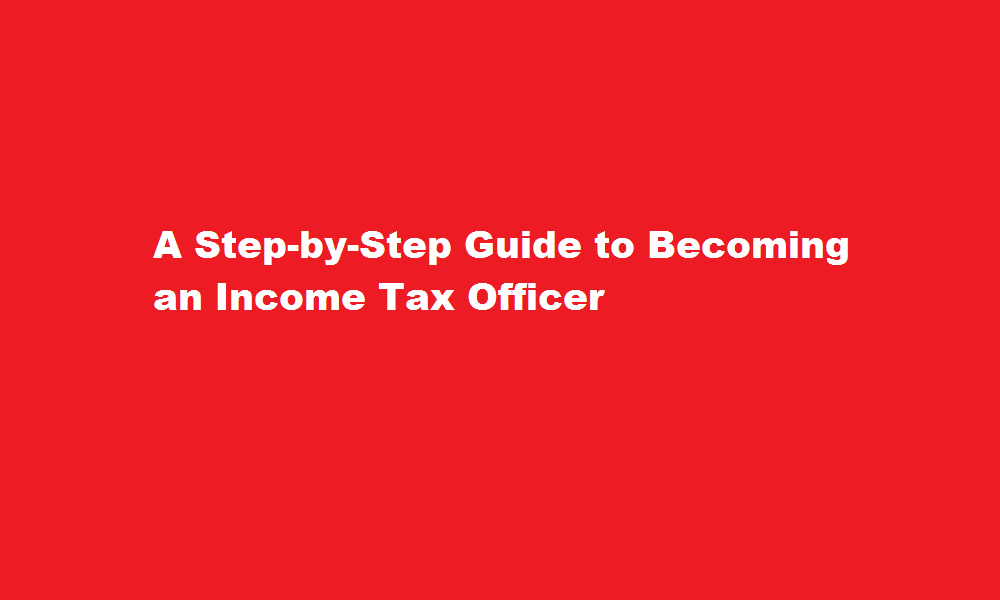 Introduction
Becoming an Income Tax Officer is an esteemed and rewarding career path that offers stability, growth opportunities, and the chance to contribute to the nation's financial system. This article aims to provide you with a comprehensive guide on how to pursue a career as an Income Tax Officer. From educational requirements to examination preparation and the necessary skills, we will cover all the essential aspects to help you embark on this fulfilling journey.
Understand the Role of an Income Tax Officer
To begin your journey, it is crucial to understand the responsibilities of an Income Tax Officer. Their primary role involves assessing and collecting taxes, conducting audits, and ensuring compliance with tax laws. They play a vital role in combating tax evasion and maintaining the integrity of the tax system. As an officer, you will be responsible for handling tax-related matters, conducting investigations, and assisting taxpayers in understanding their obligations.
Educational Requirements
To become an Income Tax Officer in most countries, including India, you typically need a bachelor's degree in fields such as accounting, economics, commerce, or law. It is advisable to pursue a specialization in taxation or finance to gain in-depth knowledge of the subject matter. Additionally, some countries require candidates to clear specific qualifying exams or join dedicated training programs to enhance their knowledge and skills in tax administration.
Qualifying Examinations
Clearing the qualifying examination is a crucial step in becoming an Income Tax Officer. In many countries, such as India, the examination is conducted by the respective tax authorities or public service commissions. Candidates must thoroughly study the examination syllabus, which typically covers subjects such as general knowledge, reasoning, mathematics, and taxation laws. It is advisable to enroll in coaching classes or join study groups to prepare effectively. Regular practice, mock tests, and previous years' question papers are beneficial in understanding the examination pattern and building confidence.
Develop Relevant Skills
 To excel as an Income Tax Officer, certain skills are essential. These include
Analytical Skills – The ability to analyze financial data, interpret tax laws, and identify discrepancies is crucial in this role.
Communication Skills – Effective communication skills are vital for interacting with taxpayers, colleagues, and legal authorities. This includes both written and verbal communication.
Attention to Detail – An eye for detail is essential to examine tax returns, financial documents, and conduct thorough audits.
Problem-Solving Abilities – As an Income Tax Officer, you will encounter various challenges. Developing strong problem-solving skills will help you navigate complex tax-related issues efficiently.
Ethical Conduct – Upholding integrity and demonstrating ethical conduct is essential to maintain public trust and ensure fairness in tax administration.
Job Opportunities and Career Growth
Upon successfully clearing the qualifying examination, candidates can be appointed as Income Tax Inspectors or Tax Assistants. With experience and consistent performance, one can gradually progress to higher positions such as Income Tax Officer, Assistant Commissioner, and Commissioner of Income Tax. Additionally, there are opportunities for specialization in areas such as transfer pricing, international taxation, and tax investigations. Continuous professional development and staying updated with changes in tax laws will enhance career prospects.
FREQUENTLY ASKED QUESTIONS
Which exam to give for an income tax officer?
The SSC CGL Income Tax Inspector recruitment exam is conducted for recruiting eligible candidates for the post of Income Tax Inspector in the CBDT under the Government of India. Candidates could apply for the aforementioned exam from 3rd April 2023 to 3rd May 2023.
Is the income tax officer exam tough?
However, the selection process of the Income Tax Officer is very difficult and candidates have to sustain a tough competition to clear the exam.
Conclusion
Becoming an Income Tax Officer requires dedication, hard work, and a passion for upholding the integrity of the tax system. This article has provided a comprehensive guide on how to embark on this fulfilling career path. By understanding the role, fulfilling educational requirements, preparing for qualifying examinations, and developing the necessary skills, you can set yourself on the right track. Remember to stay updated with the latest tax regulations and continually improve your knowledge and skills to excel in this profession. With perseverance, you can contribute significantly to the nation's financial system as an Income Tax Officer.
Read Also : Boosting Confidence Unlocking Your Inner Potential