A Comprehensive Guide on Purchasing iCloud Storage
4 min read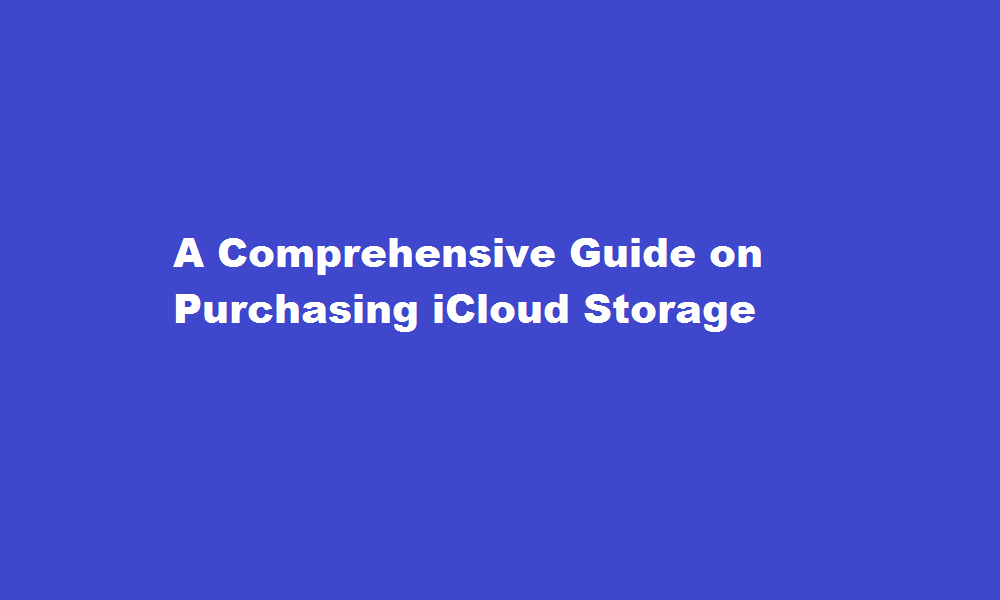 Introduction
In an age where digital content has become an integral part of our lives, the need for ample storage space is more crucial than ever. Apple's iCloud storage service offers a convenient and secure way to store your photos, videos, documents, and app data. In this article, we will explore the process of buying iCloud storage, ensuring you have the necessary information to make an informed decision.
Understanding iCloud Storage Plans
Before delving into the purchasing process, it's important to familiarize yourself with the available iCloud storage plans. Apple offers various options tailored to different storage needs and budgets. As of writing, the plans include 5GB (free), 50GB, 200GB, and 2TB tiers, each with its own associated cost. While the free 5GB may suffice for some, most users find it necessary to upgrade to a paid plan to accommodate their growing digital collections.
Accessing iCloud Storage
To begin the process, you will need an Apple ID, which serves as your account for all Apple services, including iCloud. If you don't have an Apple ID, you can easily create one through Apple's website or directly from your iOS or macOS device. Once you have an Apple ID, you can access your iCloud storage settings through your device's settings menu or by visiting the iCloud website on a computer.
Choosing the Right Storage Plan
To select the most suitable storage plan, evaluate your storage needs. Consider the amount of content you currently have and anticipate how it may grow in the future. It's also worth considering whether you plan to use iCloud for backups, as this requires additional storage space. Analyze your budget and determine the highest tier that aligns with your requirements, keeping in mind that you can always upgrade or downgrade your plan later.
Purchasing iCloud Storage
Once you've decided on a plan, buying iCloud storage is a straightforward process. On iOS or macOS devices, navigate to the iCloud settings, select "Storage," and then "Change Storage Plan." You'll be presented with the available options, and you can choose the desired plan. Confirm your selection, enter your Apple ID password if prompted, and the purchase will be completed. On the iCloud website, sign in with your Apple ID, click on "Manage Storage," and follow the same steps to purchase a plan.
Managing iCloud Storage
After purchasing a storage plan, it's crucial to manage your iCloud storage effectively. To do so, regularly assess the content you store and remove any unnecessary files. iCloud offers tools to optimize storage, such as "Optimize iPhone Storage" on iOS devices, which automatically saves lower-resolution photos and videos on your device while keeping the original versions in iCloud. By managing your storage usage, you can maximize the available space and avoid exceeding your allocated limit.
Upgrading or Downgrading Plans
As your storage needs change over time, you may find it necessary to upgrade or downgrade your iCloud storage plan. Apple allows you to modify your plan at any time to suit your evolving requirements. Simply access your iCloud settings and select "Change Storage Plan" as described earlier. You can then choose a different plan, and your billing will be adjusted accordingly.
FREQUENTLY ASKED QUESTIONS
Why can't I buy more storage on my iCloud?
Log out and re-add the iCloud account. When some users can't upgrade iCloud storage, re-add the iCloud account and try the operation again may resume the upgrade.
Does it make sense to buy iCloud storage?
ANS: If you have a lot to store, paying for iCloud storage might be an effective way to keep your data safe in case something happens to your computer or phone. However, if you don't have much data at all, the monthly fee might not be worth it for the amount of space that you need.
Conclusion
Investing in iCloud storage provides a reliable and secure solution for managing your digital content. By understanding the available plans, accessing the storage settings, and making informed decisions about your storage needs, you can ensure a seamless experience. Remember to regularly review and manage your storage to optimize space. With iCloud storage, you can confidently store and access your cherished files, knowing they are protected and readily available whenever you need them.
Read Also : Building Emotional Resilience Strategies for Strengthening Your Inner Strength