The Ultimate Guide How to Recover Deleted Photos in Your Gallery
3 min read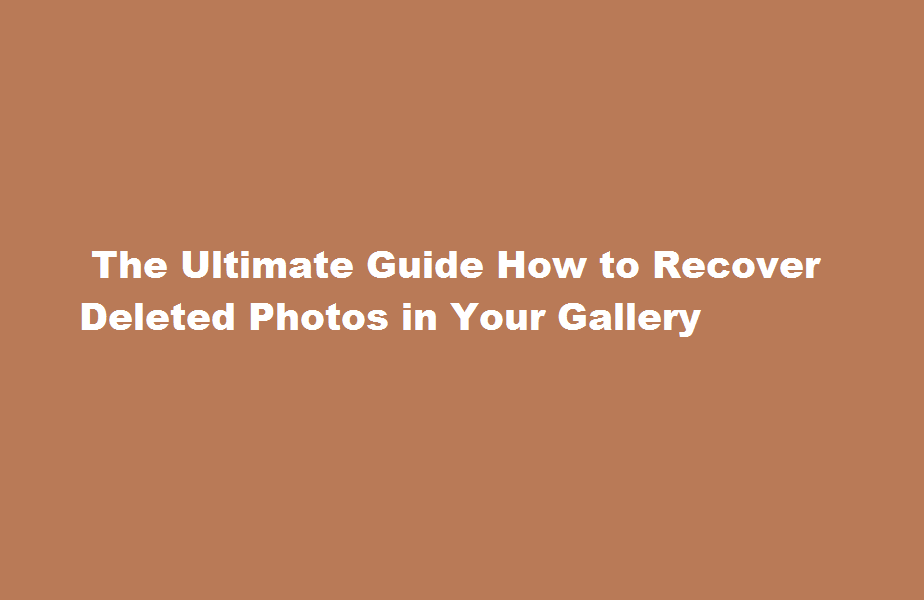 Introduction
In this digital age, our smartphones have become a treasure trove of memories captured through the lens. However, accidentally deleting precious photos from our gallery can be distressing. But fear not! With the right tools and techniques, it's possible to recover those deleted photos. In this article, we will guide you through the step-by-step process of recovering deleted photos, ensuring that you can retrieve those cherished moments and preserve them for a lifetime.
Understanding the Recovery Process
Before delving into the methods of photo recovery, it is important to understand the underlying principle. When you delete a photo from your smartphone's gallery, it is not immediately erased from the device's memory. Instead, the space it occupies is marked as available for new data. Until this space is overwritten by new files, there is a high probability of recovering the deleted photos.
Utilising the Recycle Bin
Many modern smartphones now include a Recycle Bin or Trash feature in their gallery apps. Check if your device has this feature and follow these steps to recover your deleted photos
Open your gallery app and look for the "Recycle Bin" or "Trash" option.
Tap on it to view the deleted items.
Select the photos you want to recover and tap on the restore button.
Using Cloud Storage Services
If you have enabled cloud backup services like Google Photos or iCloud, chances are your deleted photos are still retrievable. Follow these steps to recover your photos from the cloud
Launch the cloud storage app on your smartphone or access it through a web browser.
Sign in to your account associated with the cloud service.
Look for the "Trash" or "Recently Deleted" folder within the app.
Locate the deleted photos and select the ones you want to recover.
Tap on the restore or download option to recover the photos to your device.
Employing Data Recovery Software
When the above methods fail, or if you don't have access to a Recycle Bin or cloud backup, data recovery software can be a reliable solution. These programs are designed to scan your device's storage and retrieve deleted files. Follow these general steps to use data recovery software
Search for a reputable data recovery software compatible with your device's operating system (such as DiskDigger, Dr.Fone, or EaseUS MobiSaver).
Download and install the software on your computer.
Connect your smartphone to the computer using a USB cable.
Launch the data recovery software and follow the on-screen instructions to detect and scan your device.
Once the scan is complete, the software will display a list of recoverable files, including deleted photos.
Select the photos you wish to recover and choose a location on your computer to save them.
Frequently Asked Questions
How can I recover deleted photos from my gallery after more than 30 days?
On Google Photos, open the app, select Library, then Trash or Bin. Long-press on each image you want to recover, and hit Restore. They'll be re-added back in place in your library. Deleted files remain available for 60 days; after that, they'll be gone forever.
Can we recover 5 years old deleted photos?
You can restore old data if you keep a backup of your pictures. However, if you don't have a backup, you can use an old photo recovery tool like Photos Recovery to retrieve photos, video, and audio deleted a year ago unless the data is not overwritten.
Conclusion
Losing cherished photos can be heartbreaking, but it's not the end. By utilising the methods mentioned above, you can increase your chances of recovering deleted photos from your gallery. Remember to act quickly, avoid overwriting the deleted data, and regularly back up your photos to prevent future loss.
Read Also :  Effective Strategies for Rapid Weight Loss