Recovering Deleted Call History Simple Methods to Retrieve Essential Data
3 min read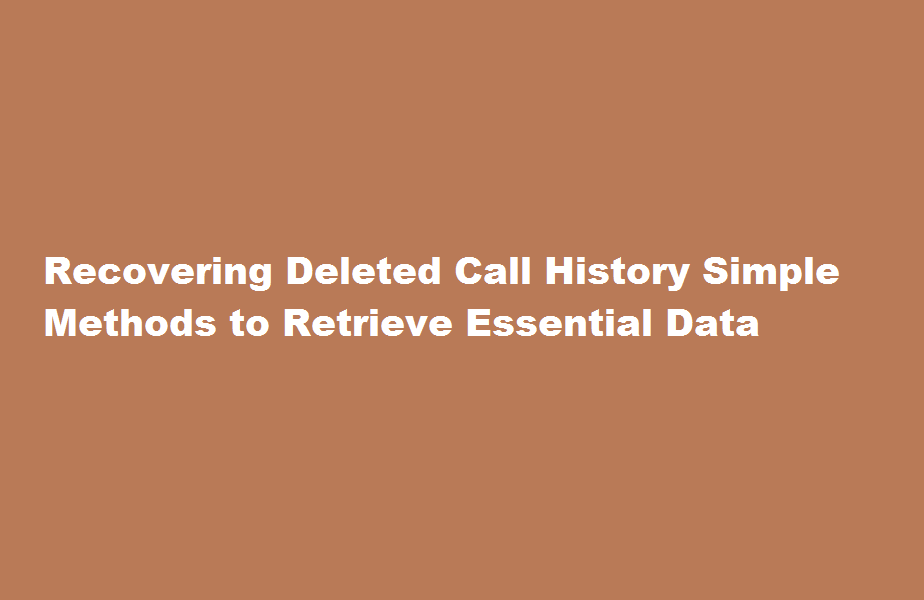 Introduction
In today's digital era, smartphones have become an integral part of our lives, serving as a hub for communication. Call history, containing valuable records of incoming and outgoing calls, holds significant importance. Accidentally deleting call logs can cause panic, but fear not! In this article, we will explore some effective methods to recover deleted call history, ensuring that vital information remains accessible.
Check Cloud Backup
Before delving into complex recovery methods, it's essential to determine if your device automatically backs up call history data to the cloud. Many smartphones offer built-in backup options like iCloud for iPhones and Google Drive for Android devices. Access your respective cloud service and check if call history backups are available. If backups exist, follow the restoration process provided by the cloud service to recover your deleted call logs effortlessly.
Utilise Phone Provider Services
In certain cases, your service provider might store call history logs. Contact your mobile network operator's customer support to inquire about their data retention policies. They may assist you in retrieving your call history, either by providing access to an online portal or sending the records to your registered email. Keep in mind that data retention policies vary among providers, and the duration of stored records may also differ.
Third-Party Call History Recovery Apps
A plethora of third-party applications are available for call history recovery. These apps can scan your device's internal storage and recover deleted call logs, assuming they haven't been overwritten by new data. Popular options like Dr.Fone, iMobie PhoneRescue, and Tenorshare UltData offer user-friendly interfaces and comprehensive scanning capabilities. Download a reliable app from a trusted source, follow the instructions, and run a deep scan to recover your lost call history.
Restore from Google Account
Android users can benefit from their Google accounts for call history recovery. If your device is synced with your Google account, it's possible to retrieve deleted call logs. Open the Google "Phone" app or "Contacts" website and navigate to the "Settings" or "More" option. Locate the "Undo changes" or "Trash" option, where you can restore deleted calls. Be mindful that this method only works if your device is synced and the call history was backed up to your Google account.
Seek Assistance from Forensic Tools
In scenarios where other methods prove unsuccessful, professional forensic tools offer advanced recovery options. These tools, such as Cellebrite UFED and Oxygen Forensic Detective, are primarily used by law enforcement agencies but are also available to individuals. They employ advanced techniques to retrieve deleted call history directly from device backups or physical acquisitions. However, these tools require technical expertise and may be costly for casual users.
Frequently Asked Questions
How to recover deleted call history from Google without backup?
FoneDog Toolkit- Android Data Recovery is the world's best Android partner when it comes to data recovery. This tool can easily recover deleted call history without backup from Android. It simply scans the entire device and gives you a preview of all the data found on the phone.
Can Google backup call history?
You can back up and restore the following items on your Pixel phone or Nexus device: Apps. Call History.
Conclusion
Losing call history can be distressing, but with the right approach, you can recover valuable data. Start by checking cloud backups, contact your service provider, or leverage third-party recovery apps. Android users can also restore call logs through their Google accounts. If all else fails, consider professional forensic tools. By following these methods, you can increase your chances of successfully recovering deleted call history and preserving essential information.
Read Also :  The Ultimate Guide How to Recover Deleted Photos in Your Gallery