A Step-by-Step Guide to Submitting IGNOU Assignments
3 min read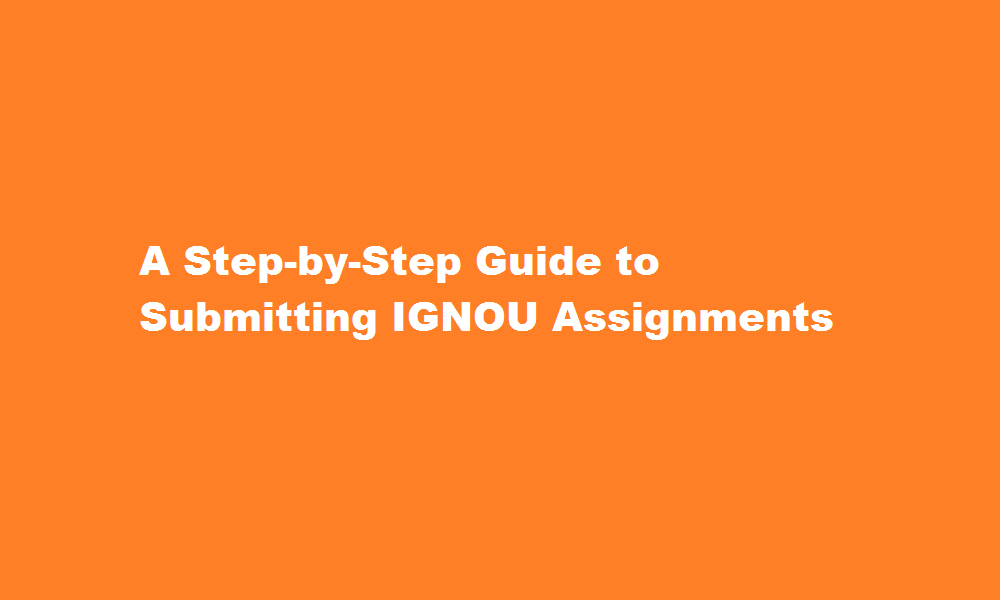 Introduction
Submitting assignments is an integral part of the distance learning experience, and the Indira Gandhi National Open University (IGNOU) has streamlined the process to ensure seamless submission. This article provides a step-by-step guide on how to submit IGNOU assignments. Whether you're a new student or a returning one, this informative guide will help you navigate the submission process effortlessly.
Understand Assignment Guidelines 
Before diving into the assignment submission process, it is crucial to thoroughly read and comprehend the assignment guidelines provided by IGNOU. Pay close attention to the format, word count, deadline, and any specific instructions outlined in the assignment question papers or study materials.
Complete Your Assignments
Once you have a clear understanding of the assignment requirements, dedicate sufficient time and effort to complete your assignments. Ensure that your responses are accurate, well-structured, and demonstrate a deep understanding of the subject matter. Proofread your work for errors, grammar, and clarity before moving on to the next step.
Prepare Assignments for Submission 
IGNOU generally requires handwritten assignments unless specified otherwise. Prepare your assignments in neat and legible handwriting using black or blue ink. Use A4-size white sheets and leave sufficient margins on all sides. Write your enrolment number, program code, course code, and assignment code on the top right corner of each page. Ensure that your assignments are organized in the correct order and securely fastened together.
Prepare Assignment Cover Page 
Create an assignment cover page by neatly writing or typing your personal details. Include your name, enrolment number, address, program code, course code, study center code, and regional center code. Double-check for accuracy and legibility. Place the cover page as the first page of your assignment document.
Submit Your Assignments 
There are two primary methods for submitting IGNOU assignments: offline submission and online submission through the IGNOU eGyankosh portal.
Offline Submission Locate your nearest IGNOU study center or regional center. Visit the center during working hours and submit your assignments to the designated submission counter. Ensure that you receive a submission receipt as proof of submission.
Online Submission Login to the IGNOU eGyankosh portal using your credentials. Locate the assignment submission section and follow the prompts to upload your assignment document. Make sure to select the correct course and assignment code before proceeding. Confirm the successful submission and keep a record of the confirmation for future reference.
Retain a Copy 
After submitting your assignments, it is essential to retain a copy of each assignment for your personal records. This will come in handy in case of any discrepancies or for future reference.
FREQUENTLY ASKED QUESTIONS
Can I submit assignments after the due date?
Late submission will not be accepted on any account. After evaluation they can get them back from the Study Centre before the written theory examination. The Study Centre does not take any responsibility thereafter.
How can I apologise for late submission of assignment?
I am very sorry for the late submission of the assignment. There is no correct explanation for the reason for my late submission. Yes, I put off my work because I was lazy. I understand that there was sufficient time for doing the assignment and submitting it on the said date.
Conclusion
Submitting IGNOU assignments is a straightforward process when you have a clear understanding of the guidelines and follow the prescribed steps. By completing your assignments diligently and adhering to the submission instructions, you ensure a smooth and successful assignment submission experience. Remember to keep track of important dates and always submit your assignments before the deadline. Best of luck with your studies at IGNOU!
Read Also : Unveiling The Secrets How to Look Attractive