Must-Have Mac Accessories to Amplify Productivity
4 min read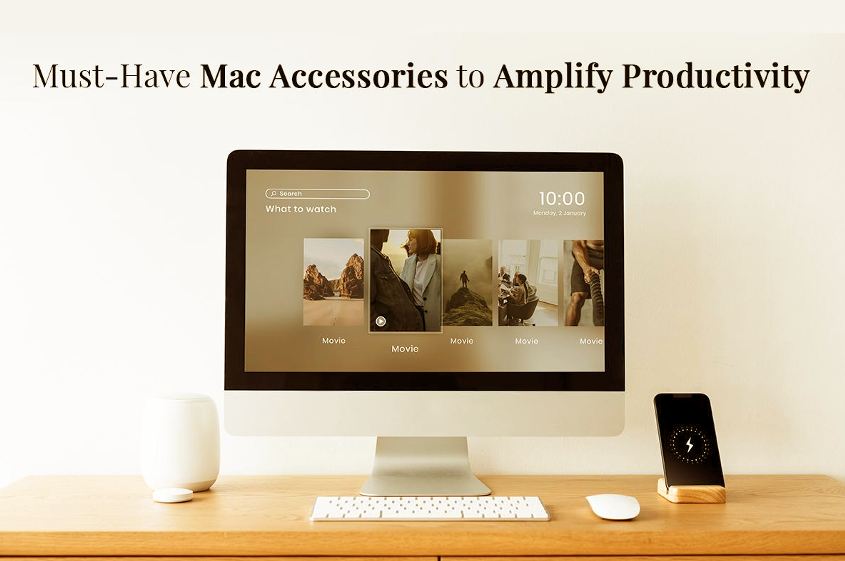 Are you looking to augment your productivity? First and foremost, you need a good computer or laptop, and MacBooks win the race thanks to their sleek appearance and user-friendly interface. Also, Macs are not prone to getting infected with viruses as much as Windows and other operating systems. 
However, sometimes, a desktop or laptop isn't enough. If you're looking for more, here are some must-have Mac accessories to streamline the workflow and enhance your productivity.
Compact Charger
A default charger comes with MacBooks, and it is a good option for a charger. However, you can check out other chargers that can speed up your workflow, as you can use the charger beyond charging.
You can get a compact charger that offers an additional USB-C connector so that you can charge another gadget with it.
USB Cable
The default USB-C cable is small and is used to hook to a second or external monitor. However, for better cable management, you can add more length to them. So, you can get an additional USB-C cable so that you have enough length to do what you want while having more space to work with.
Second Monitor
A single monitor works when you don't have to multitask or look at multiple things simultaneously. Whether working with several windows open or creating designs, you can get a second monitor or external display and connect it to your Mac.
You must reboot your system if you get the second monitor not detected error after connecting the external display. Also, don't forget to check the physical connection to ensure the adapters and cables are functioning correctly. 
USB Drive
The Cloud can be accessed at any time. But sometimes, it may take time, or accessibility might be cumbersome. Save plenty of time by getting a USB flash drive. You can store all your files and presentations and carry them with you. Then, connect it to your Mac or other devices and access the files on the drive.
USB flash drives make it easier to transfer files quickly between computers.
Port Adapter
MacBooks come with two USB-C ports, one of the most significant restrictions. If you're using fewer gadgets, two ports might be enough. But having more than two ports might be useful if you have to use several devices. But, again, this will not prevent your workflow.
You must get a port adapter if you need to use more than one gadget at a time. The port adapter must offer multiple USB-C ports so that multiple devices can be used without interruptions. It can even help to organize cords.
Card Reader
You can get a standalone card reader for streamlining your work. You get one specifically designed to help in transferring photos between devices. The card reader must be able to easily read MicroSD and SD cards while transferring pictures to a computer. You can choose one with USB 2.0 and USB-C port options.
Card readers are so small that you can easily carry them around. Also, they're pretty affordable to purchase.
Desktop Stand
Having enough desk space is an essential part of productivity. However, things can sometimes get in the way and interrupt your work. If you don't need your laptop, you can get a stand to set it aside and clear desk space.
A desktop stand is an excellent Mac accessory and can help save a lot of space. You have to close your laptop to insert it into the stand. Also, it will keep your system elevated from the table, so it is protected against spills.
Screen Cleaning Kit
Particles, dust, and splotches are expected on the system's screen when using the device for a long time. While it is possible to work around these, sometimes they might obscure your vision and hinder productivity.
However, you cannot start cleaning your Mac screen with any cleaning solution. If it isn't the right one, it can damage the screen. So, you must do your due diligence and find the correct screen cleaning kit for your MacBook. Then, you can check out the options online, go through the reviews, and place your order.
Final Thoughts
These handy MacBook accessories can improve your workflow and amplify productivity. Besides these, you can think of investing in a good webcam if you have to host or attend multiple video calls. You can even get good headphones so that voice meetings are much more straightforward, or you can record videos with impressive sound quality. An external mouse or magic mouse is also a great option if you're not comfortable using the trackpad.
The accessories you need for your MacBook depend on your work requirements. So, assess them before you start investing in Mac accessories. If you need help, speak to a gadget expert and take their expert recommendation.