Unlocking the Path to Admission in NDA A Comprehensive Guide
3 min read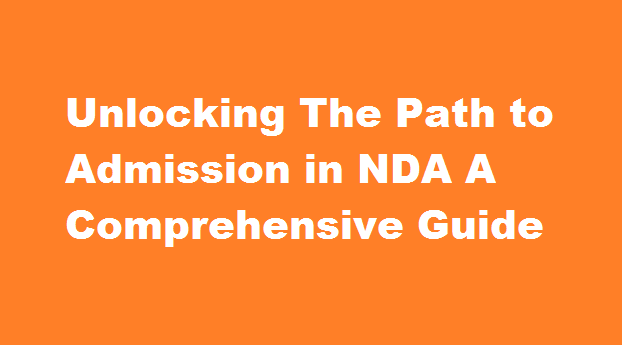 Introduction
The National Defence Academy (NDA) is a prestigious institution in India that trains young individuals for a career in the armed forces. Admission to the NDA is highly competitive, but with proper guidance and preparation, aspiring candidates can increase their chances of success. This article provides valuable insights and tips on how to secure admission in the NDA.
Understanding the National Defence Academy
The National Defence Academy is located in Khadakwasla, near Pune, and is a tri-service institution that offers training to cadets from the Army, Navy, and Air Force. It aims to groom young men for leadership roles and equip them with the necessary skills to serve the nation. To join the NDA, candidates must appear for a two-step selection process consisting of a written examination followed by an interview conducted by the Services Selection Board (SSB).
Eligibility Criteria
To be eligible for NDA admission, candidates must fulfil certain criteria. They must be unmarried male citizens of India, aged between 16.5 and 19.5 years. Additionally, candidates must have completed their 10+2 education from a recognized board or university. It is essential to ensure that all eligibility requirements are met before proceeding with the application process.
Preparation for the Written Examination
The written examination for NDA admission consists of two papers: Mathematics and General Ability Test (GAT). Candidates must focus on building a strong foundation in mathematics, including topics such as algebra, trigonometry, and calculus. The GAT covers English, general knowledge, physics, chemistry, history, geography, current affairs, and reasoning. Regular practice, solving previous years' question papers, and joining a reputable coaching institute can greatly enhance one's chances of success.
Developing Personality and Leadership Skills
The Services Selection Board (SSB) interview is a crucial part of the selection process. It evaluates candidates' personality, leadership potential, communication skills, and overall suitability for a career in the armed forces. To excel in the interview, candidates should work on developing their communication skills, self-confidence, and problem-solving abilities. Engaging in group discussions, participating in extracurricular activities, and taking up leadership roles in school or college can help in honing these skills.
Physical Fitness and Medical Standards
Apart from academic and personality traits, physical fitness is of paramount importance for admission to the NDA. Candidates must be physically fit and meet the medical standards set by the academy. Regular exercise, including running, swimming, and strength training, can help improve fitness levels. It is advisable to undergo a medical check-up to ensure that all medical requirements are met. Any existing medical conditions or deficiencies should be addressed before applying.
Are girls eligible for the NDA Exam?
Yes, according to SC's new interim order, women candidates can apply for the NDA exam.
What are the nationality criteria for the NDA Exam?
The candidates applying for the NDA Exam must be a- a citizen of India, a subject of Nepal, or a person of Indian origin who has migrated from Pakistan, Burma, Sri Lanka, and East African Countries of Kenya, Uganda, the United Republic of Tanzania, Zambia, Malawi, Zaire, and Ethiopia or Vietnam with the intention of permanently settling in India.
Conclusion
Getting admission to the National Defence Academy is a dream for many young individuals aspiring to serve the nation. It requires dedication, perseverance, and a well-rounded approach to preparation. By focusing on academics, personality development, physical fitness, and meeting the eligibility criteria, candidates can increase their chances of realising their dreams and joining the esteemed ranks of the NDA.
Read Also : Mastering the Art of Critical Thinking A Guide to Developing Your Analytical Mind