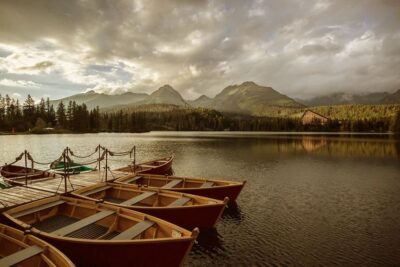 Frequently, people ask whether floating docks are better than stationary docks. It is essential to consider both your needs and the environment in which you perform your recreational activities before attempting to answer this question.
Floating docks and stationary docks differ in a number of ways, but the type you select should meet your needs and activities, not the other way around. Last but not least, you can also design a dock system that combines both kinds to ensure you get the best of both worlds. Here are some of the main differences between a floating dock and a stationary dock that may help you make your decision.
Floating docks are great for docking jet skis. Also, don't forget to carry your power sports goggles while being on the adventure.
Stationary Dock
In areas with a lot of traffic, stationary docks work best because this type of structure is less susceptible to watercraft activity and movement. A stationary dock is also a good choice for areas where the water level tends to be consistent. Additionally, they provide a solid base for getting into and out of your boat. Advantages of stationary docks are-
The potential savings will depend on the model chosen (ex.: aluminum stationary docks).
This dock allows you to relax in a stable environment because it rests on the ground in the water.
There is a high potential to add value to your residential building through a complementary extension.
Floating Dock
The ability to adjust the depth of floating docks makes them ideal in areas with swimming platforms and waterfronts where water levels fluctuate. Because of this, a floating jet ski dock is incredibly versatile. Installing and maintaining floating docks is also more affordable.
It is easy and quick to install/assemble.
Watercraft can be jumped on and off smoothly at different levels due to tides and/or seasonal variations, flooding, and droughts.
High-density polyethylene is 100% recyclable, so it does not require any maintenance.
Easily add and remove new sections, or completely change their shape and usage.
Can be attached to any existing structure and be anchored in any body of water regardless of the conditions.
Rugged, resistant to pollution, UV rays, and guaranteed for 20 years.
Differences
Docks that float on the surface of the water are called floating docks. There are many options to use as floats, including dock floats and plastic barrels. They rest above the water. Piles are mounted into the seabed in order to support the stationary docks. In addition to being above the water, these docks are also more protected against the weather.
Cost
Stationary docks and floating docks have quite different prices. Each dock is priced according to the type of material used. You would have to pay more for a dock that uses composite wood than one that uses standard treated lumber. Stationary docks can be very expensive to install. For the purpose of drilling your auger into the seabed, you would need to hire a professional. Recently, there have been a number of new floating dock products that include everything needed to build the entire frame, including dock kits.
Longevity
The lifespan of a stationary dock tends to be longer than that of a floating dock. This is simply due to the fact that floating docks are submerged entirely in water during installation. Because of this, they age more rapidly. Saltwater floating docks age the fastest. The two last about the same amount of time, with a stationary dock, generally lasting 25-35 years, and a floating dock lasting 20-30 years. A dock can outlive its intended life span when properly maintained.
Maintenance
It usually takes the same amount of time to maintain each type of dock. It is important to consider the material used when choosing maintenance procedures. It is essential to wash wood docks every year, preferably with a pressure washer, and to seal them with sealant. It applies to stationary docks as well as floating docks. Keep the perimeter of your dock in good condition. Debris and algae that float around on the water can really damage your dock. You should always lubricate metal docks, such as aluminum, to avoid rusting. This is especially important in saltwater environments.
Conclusion
It is your choice whether to build a floating dock or install a stationary dock. Nevertheless, you should always ask your dock distributor for advice and learn about the options available to you. Ultimately, what matters most is finding a docking solution that meets your needs and can be adapted to how you want to use it while remaining within your budget.
Moreover, a China butterfly valve is extremely popular nowadays as it is more affordable and durable.