Mastering Train Travel A Comprehensive Guide to Checking Train Time Schedules
3 min read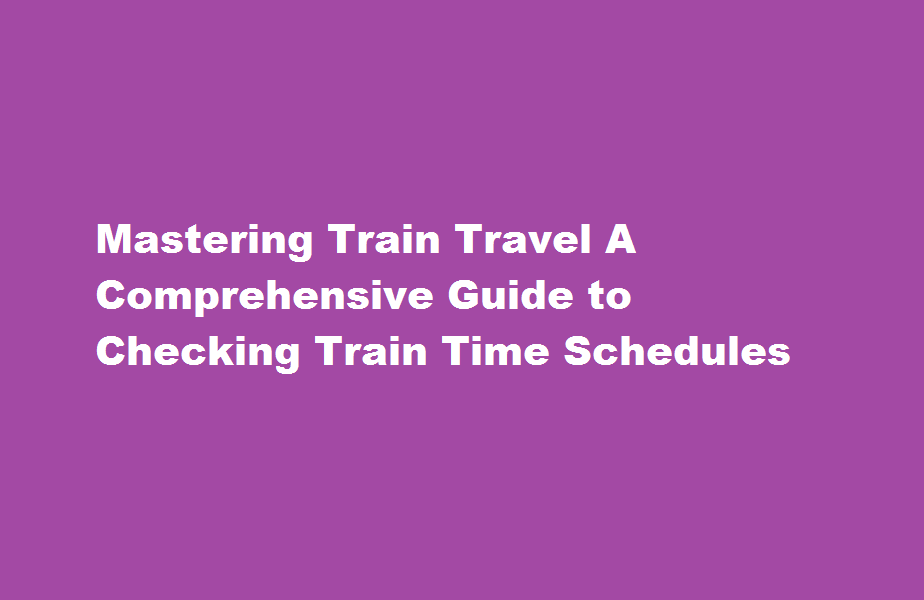 Introduction
Train travel is a popular and efficient mode of transportation that offers convenience and comfort to millions of passengers worldwide. Whether you're a seasoned traveller or a novice planning your first train journey, one essential aspect is knowing how to check train time schedules. This article will provide you with a step-by-step guide on how to efficiently check train schedules, enabling you to plan your trips effectively and make the most of your rail travel experience.
Consult Official Railway Websites and Apps
The first and most reliable source for checking train time schedules is the official website or app of the respective railway company or national rail authority. These platforms provide accurate and up-to-date information regarding train routes, departure and arrival times, and any schedule changes or disruptions. Most official websites offer user-friendly interfaces that allow you to search for train schedules by specific criteria such as departure station, destination, date, and time. Additionally, many apps offer real-time updates, allowing you to monitor any delays or cancellations.
Utilise Third-Party Travel Websites
In addition to official railway platforms, various third-party travel websites and applications offer comprehensive train schedule information. Websites like Rail Europe, Trainline, and GoEuro aggregate data from multiple railway companies, making it convenient to compare schedules across different routes and countries. These platforms often provide additional features such as seat availability, fare comparisons, and the ability to book tickets directly.
Explore Offline Resources
If you prefer offline options or find yourself without internet access, traditional resources like printed timetables, travel guidebooks, and information desks at train stations can still be valuable sources of train time schedules. Many train stations have designated information desks where staff members can provide you with printed schedules and answer any questions you may have. Additionally, travel guidebooks often include train schedules for popular routes, making them a handy resource for planning your journeys.
Leverage Mobile Applications
Smartphone apps can be incredibly useful tools for checking train time schedules on the go. Numerous mobile applications, such as Google Maps, Citymapper, and Moovit, integrate train schedule information into their navigation features. These apps provide step-by-step directions, real-time updates, and estimated travel times, making them ideal for planning multi-modal journeys that involve trains. Additionally, they often offer features like live maps, station amenities, and alerts for delays or platform changes.
Subscribe to Alerts and Notifications
To stay informed about train schedules and any changes or disruptions, consider subscribing to email or text message alerts provided by railway companies or travel websites. These notifications can help you stay updated on delays, cancellations, platform changes, and other important information that may affect your journey. By receiving timely alerts, you can plan alternative routes, adjust your travel plans accordingly, or simply avoid unnecessary waiting at the station.
Frequently Asked Questions
How will you make an inquiry about the train schedule at the railway station?
Railway Enquiry Customer Care Number 139 (Chargeable) : For PNR enquiry, Accommodation availability, Fare enquiry, Current train running position, IRCTC relevant information including information through SMS.
Why do railways use 24-hour clocks?
Railways and airlines use the 24-hour clock format as they operate round the clock 24 hours. The main features of the 24-hour clock system are: 1. a.m. and p.m. are not used in order to avoid confusion.
Conclusion
Checking train time schedules is crucial for efficient travel planning. By using a combination of official railway websites, third-party travel platforms, offline resources, mobile applications, and alerts, you can access accurate and up-to-date train schedules. This comprehensive approach ensures that you are well-prepared, allowing you to make informed decisions and optimise your rail travel experience. Whether you're commuting, embarking on a vacation, or exploring new destinations, mastering the art of checking train schedules empowers you to navigate the railway system with ease, ensuring smooth and enjoyable journeys.
Read Also : A Comprehensive Guide How to Book Flight Tickets Online