A Comprehensive Guide on Checking FASTag Balance
3 min read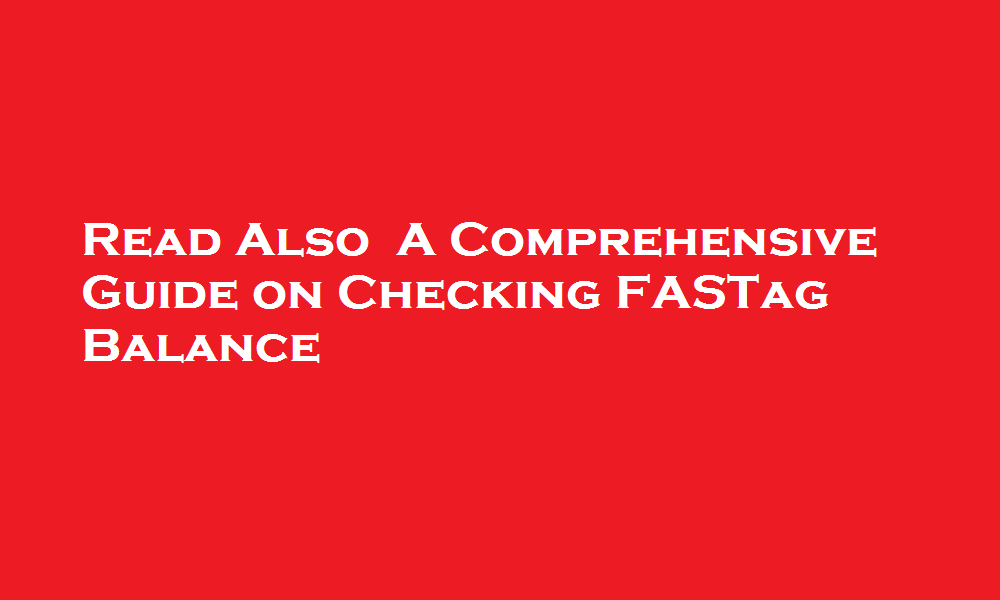 Introduction
FASTag has emerged as a convenient and efficient way to pay toll charges across India. To ensure a smooth travel experience, it is essential to keep track of your FASTag balance. This article provides a step-by-step guide on how to check your FASTag balance, empowering you with the knowledge to manage your account effectively. Understanding the process will help you avoid any inconvenience at toll plazas and ensure a hassle-free journey on highways.
What is FASTag?
FASTag is an electronic toll collection system introduced by the National Electronic Toll Collection (NETC) program. It uses radio frequency identification (RFID) technology to enable automatic deduction of toll charges. FASTag is affixed to the windshield of a vehicle and can be recharged online through various authorized banks, e-wallets, and payment gateways. Checking your FASTag balance regularly ensures that you have sufficient funds for seamless passage at toll plazas.
Online Methods to Check FASTag Balance
There are several convenient ways to check your FASTag balance online. Here are the most commonly used methods
Bank Websites/Apps – If you have linked your FASTag to your bank account, you can check your balance through your bank's website or mobile application. Log in to your account and navigate to the FASTag section, where you will find your balance information.
FASTag Mobile Apps – Many banks and the National Highway Authority of India (NHAI) have developed dedicated mobile apps for FASTag users. Download the relevant app from your bank or the NHAI, log in using your credentials, and find the balance section to view your account details.
NHAI FASTag Portal – The NHAI operates a dedicated portal for FASTag users. Visit the official NHAI FASTag website, enter your vehicle registration number or FASTag number, and click on the "Check Balance" option. The portal will display your account balance instantly.
SMS Service – Some banks provide an SMS service to check FASTag balance. Simply send an SMS with a predefined format to the specified number, and you will receive your account balance details on your mobile phone.
Offline Methods to Check FASTag Balance
In addition to online methods, you can also check your FASTag balance offline using the following options
Customer Care Helpline – Most banks and the NHAI have dedicated customer care helplines for FASTag users. Dial the toll-free number provided by your bank or the NHAI, follow the interactive voice response system, and choose the option to check your FASTag balance. A customer care executive can also assist you with balance inquiries.
Point-of-Sale (POS) Terminals – Many toll plazas have Point-of-Sale terminals where you can inquire about your FASTag balance. Approach the designated counter, provide your vehicle registration number or FASTag number, and the operator will provide you with the necessary information.
FREQUENTLY ASKED QUESTIONS
How can I check my FASTag balance through SMS?
According to the tweet, the SBI FASTag customer, from their registered mobile number, must send the SMS, FTBAL, for a single vehicle, to 7208820019.
Does FASTag send SMS?
Register for the FASTag service, then you will receive an SMS every time an amount gets deducted from your FASTag account at a toll booth. This SMS, in addition to showing the deduction amount will also notify you about your FASTag account balance, toll payments, and recharge confirmations among other things.
Conclusion
Checking your FASTag balance regularly is crucial to avoid any inconvenience or delays during your travel. This article has outlined various online and offline methods to check your FASTag balance effectively. Whether through bank websites/apps, dedicated mobile apps, the NHAI FASTag portal, SMS service, customer care helplines, or POS terminals at toll plazas, there are multiple avenues available for you to stay updated on your account balance. By staying vigilant and maintaining adequate funds in your FASTag account, you can ensure a seamless and stress-free journey on India's highways.
Read Also : A Step-by-Step Guide to Becoming an Income Tax Officer