A Step-by-Step Guide on How to Disconnect Your Airtel Broadband Connection
3 min read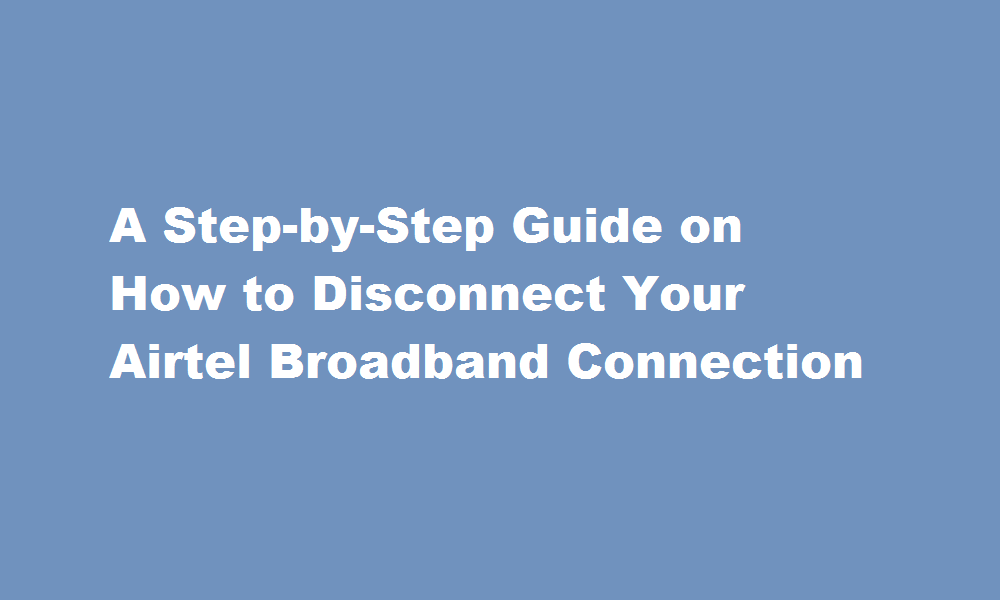 Introduction
In today's fast-paced world, changing internet service providers or terminating a broadband connection is not an uncommon scenario. If you are an Airtel broadband customer and have decided to disconnect your connection, it is essential to understand the process and ensure a smooth transition. In this article, we will provide a comprehensive, step-by-step guide on how to disconnect your Airtel broadband connection hassle-free.
Review the Terms and Conditions
Before proceeding with the disconnection process, take the time to review the terms and conditions of your Airtel broadband contract. Familiarize yourself with any early termination fees or notice periods required. Ensure that you are aware of any outstanding bills or pending payments to avoid any issues during the disconnection process.
Contact Airtel Customer Support
The next step is to get in touch with Airtel's customer support. You can reach them through various channels, including phone, email, or live chat. Explain your intention to disconnect the broadband connection and provide them with the necessary details such as your account number, registered phone number, and address. The customer support representative will guide you through the disconnection process and address any concerns or queries you may have.
Return the Modem and Equipment
Airtel will provide you with a modem and other equipment when you subscribe to their broadband service. Once you have notified customer support about the disconnection, inquire about the procedure for returning the equipment. They may require you to visit a nearby Airtel store or provide instructions for courier pickup. Ensure that you pack the equipment securely and return it within the stipulated time frame to avoid any charges for unreturned devices.
Settle Outstanding Dues
Before disconnecting your Airtel broadband connection, it is crucial to settle any outstanding bills or pending payments. Ensure that all your dues are cleared to avoid any inconvenience or disputes in the future. Airtel provides multiple payment options, including online portals, mobile apps, and authorized retail outlets. Make the payment using the most convenient method and retain a copy of the transaction receipt as proof of payment.
Confirmation of Disconnection
Once you have completed the disconnection process, request a confirmation from Airtel that your broadband connection has been successfully terminated. This confirmation can be in the form of an email or a written document. Keep this document safe for future reference. Verify that your Airtel broadband account is no longer active and that you are no longer being billed for the service.
FREQUENTLY ASKED QUESTIONS
Do we need to return the Airtel router after disconnection?
You can keep the router in the former case or you should return it in the latter case.
Will I get a refund if I cancel Airtel broadband?
The payment for the plan is an upfront payment and will not be refunded in case the customer cancels the connection before the maturity of the agreed tenure.
Conclusion
Disconnecting an Airtel broadband connection can be a smooth and hassle-free process if you follow the necessary steps outlined in this guide. Remember to review the terms and conditions of your contract, contact Airtel's customer support, return the modem and equipment, settle any outstanding dues, and obtain a confirmation of disconnection. By ensuring that all the necessary steps are completed, you can avoid any potential complications or future disputes. Always maintain clear communication with Airtel throughout the process and keep all relevant documents for your records. Whether you are switching to another provider or simply no longer require a broadband connection, following these steps will help you disconnect your Airtel broadband connection with ease.
Read Also : Mastering Your Device How to Disable Developer Options