A Step-by-Step Guide on How to Download Your PAN Card Online
3 min read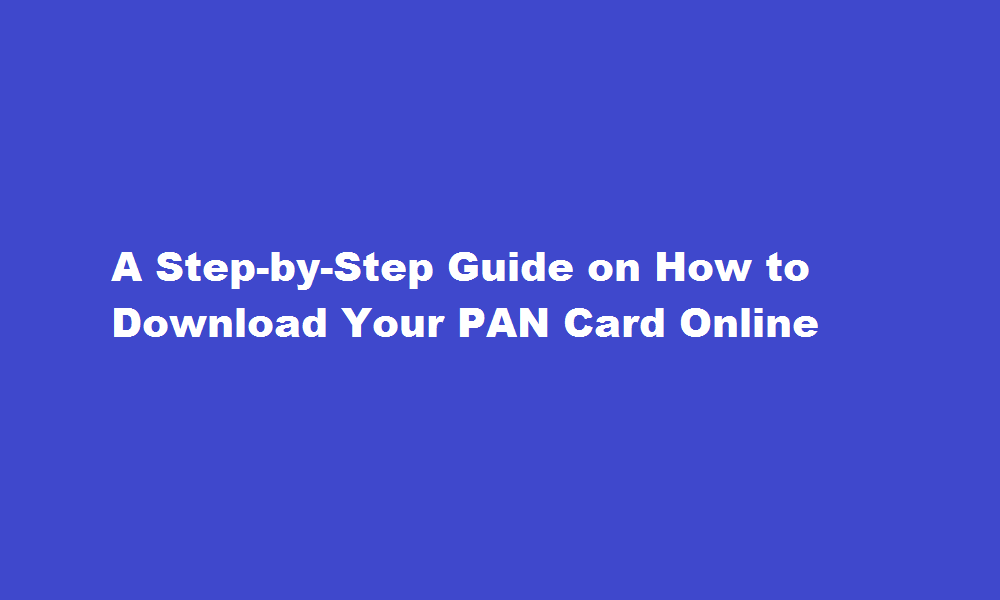 Introduction
The Permanent Account Number (PAN) card is an essential document for Indian citizens, serving as a unique identifier for various financial transactions. In today's digital age, obtaining a digital copy of your PAN card is convenient and time-saving. This article will guide you through the process of downloading your PAN card online, ensuring a smooth and hassle-free experience.
Visit the Official NSDL Website
To begin the process, open your web browser and visit the official website of the National Securities Depository Limited (NSDL) at www.tin-nsdl.com. NSDL is the authorised portal for PAN card-related services. On the homepage, navigate to the 'Services' section and click on 'PAN' to access the PAN-related services page.
Select the Appropriate Option
On the PAN-related services page, you will find various options related to PAN card services. Look for the 'Download e-PAN' option and click on it. This option enables you to obtain a digital copy of your PAN card.
Provide Required Details
To proceed further, you will need to provide the necessary details. Enter your PAN number, date of birth, and surname/last name as per the PAN card. You also need to choose the appropriate option for the type of PAN card (individual, company, etc.). Additionally, enter the captcha code as displayed on the page. Double-check all the details before moving on.
Generate OTP
Once you have filled in the required details, click on the 'Generate OTP' button. An OTP (One-Time Password) will be sent to the mobile number registered with your PAN card. Enter the OTP in the designated field on the website. If you have not registered your mobile number, you can follow the instructions to register it before proceeding.
Verify and Download e-PAN
After successful OTP verification, a new page will appear displaying your PAN card details. Verify that the information is correct, including your name, date of birth, and photograph. If any discrepancies are found, contact NSDL for assistance. To download your e-PAN, click on the 'Download PDF' button. The e-PAN card will be downloaded to your device, typically in PDF format.
Open and Save e-PAN
Locate the downloaded e-PAN file on your device and open it using a PDF reader application. Ensure that the file is accessible and legible. It is recommended to save a copy of the e-PAN in a secure location on your device or cloud storage for future reference. You may also consider taking a printout of the e-PAN for physical documentation purposes, if required.
FREQUENTLY ASKED QUESTIONS
How many times can I download a PAN card?
This facility is available for PAN holders whose latest application was processed through Protean.
For the PAN applications submitted to Protean where PAN is allotted or changes are confirmed by ITD within the last 30 days, e-PAN card can be downloaded free of cost three times.
Can a person have 2 PAN cards?
It's illegal for a person or company to have more than one PAN Number. If caught, the Income Tax Department can take a legal action or put a financial penalty.
Conclusion
Obtaining a digital copy of your PAN card has become incredibly convenient with the availability of online services. The step-by-step guide outlined in this article aims to simplify the process for you. Remember to keep your PAN card details secure and avoid sharing them with unauthorised individuals. By following these instructions, you can easily download your PAN card whenever the need arises.
Read Also : Deactivating Paytm FASTag A Step-by-Step Guide