The Ultimate Guide How to Safely Store Photos in Google Drive
4 min read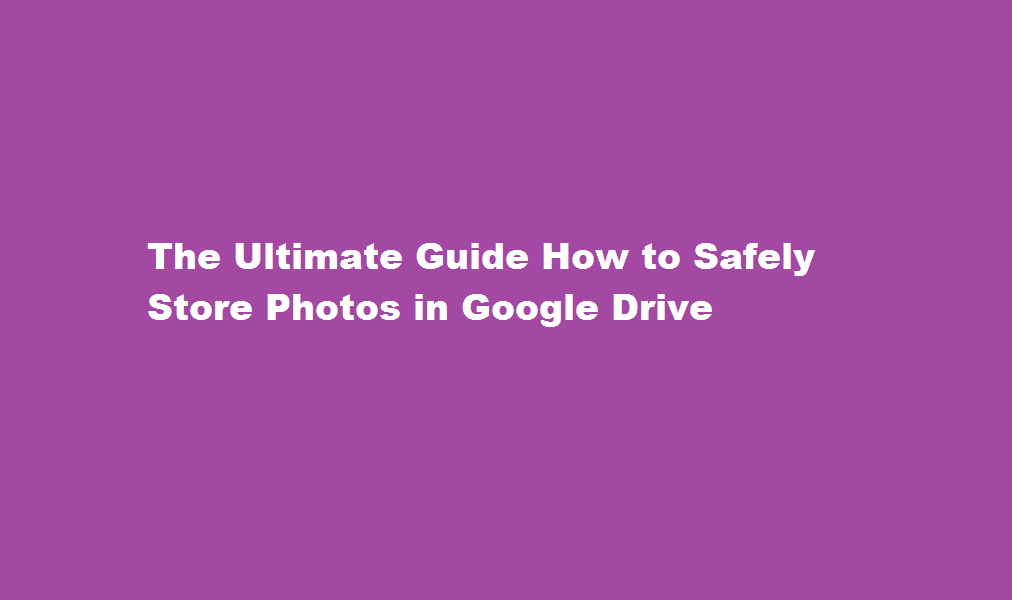 Introduction
In the digital age, preserving precious memories has become easier than ever before. With the convenience and reliability of cloud storage services like Google Drive, preserving and accessing your photo collection is just a few clicks away. This article aims to provide a comprehensive guide on how to save photos in Google Drive, ensuring their safety, accessibility, and organization.
Understanding Google Drive
Google Drive is a secure cloud storage platform that allows users to store and share various types of files, including photos. It offers a generous amount of free storage space and integrates seamlessly with other Google services, making it an excellent choice for photo storage. To get started, sign in to your Google account or create one if you don't have it already. Then, navigate to Google Drive (drive.google.com) to access your drive.
Organizing Your Photo Collection
An organized photo collection ensures easy browsing and retrieval. Start by creating a dedicated folder for your photos within Google Drive. Within this folder, you can further categorize your images into subfolders based on themes, dates, events, or any other criteria that suits your needs. To create a folder, click on the "New" button in Google Drive and select "Folder." Give the folder an appropriate name, and you're ready to begin.
Uploading Photos to Google Drive
To upload photos, you have a few options. You can simply drag and drop the desired photos from your computer into the designated folder in Google Drive. Alternatively, you can click on the "New" button, select "File upload," and choose the photos you want to add. Google Drive accepts various image formats, including JPEG, PNG, and HEIC.
Ensuring Photo Safety and Security
To protect your photos, Google Drive employs robust security measures. All files are encrypted in transit and at rest, ensuring that they are secure from unauthorized access. However, it's always wise to add an extra layer of security. Consider enabling two-factor authentication for your Google account to prevent unauthorized access. Additionally, regularly update your account password and keep it strong.
Backing Up and Syncing Your Photos
Google Drive offers a backup and sync feature that automatically uploads your photos to the cloud. This ensures that even if your local storage is compromised, your photos remain safe and accessible. To enable this feature, download and install the Google Drive desktop application. Once installed, choose the folders you want to back up, including your photo folder. Any changes made to the synced folder on your computer will be reflected in Google Drive and vice versa.
FREQUENTLY ASKED QUESTIONS
Is it a good idea to store photos in Google Drive?
Google Drive is ideal for collaboration and sharing with other people. You can allow others access to your Drive, or create shareable links to specific photos or folders, allowing others to see and access the images stored in those folders.
How long do Google Drive photos last?
How long do I have until my content gets deleted? If your account is subject to this policy change, we'll attempt to give you ample notice (at least three months) before your content may be deleted. Your content will be eligible for deletion when you have been over your storage quota for 2 years.
Can my Google Drive be hacked?
Technically yes, your Google Drive account could be hacked, as nothing connected to the internet is completely protected from data thieves and cybercriminals. However, Google Drive's security protocols make it a very secure cloud storage provider.
Conclusion
Preserving your photo collection is essential in this digital age, and Google Drive provides a reliable and user-friendly platform for secure storage. By following the steps outlined in this guide, you can organize and protect your photos effectively. Remember to regularly back up your photos and keep your Google account secure to ensure their long-term preservation. With Google Drive, your cherished memories will be just a few clicks away, ready to be shared and enjoyed for years to come.
Read Also : Efficient Strategies for Managing Your Google Account