Efficient Strategies for Managing Your Google Account
3 min read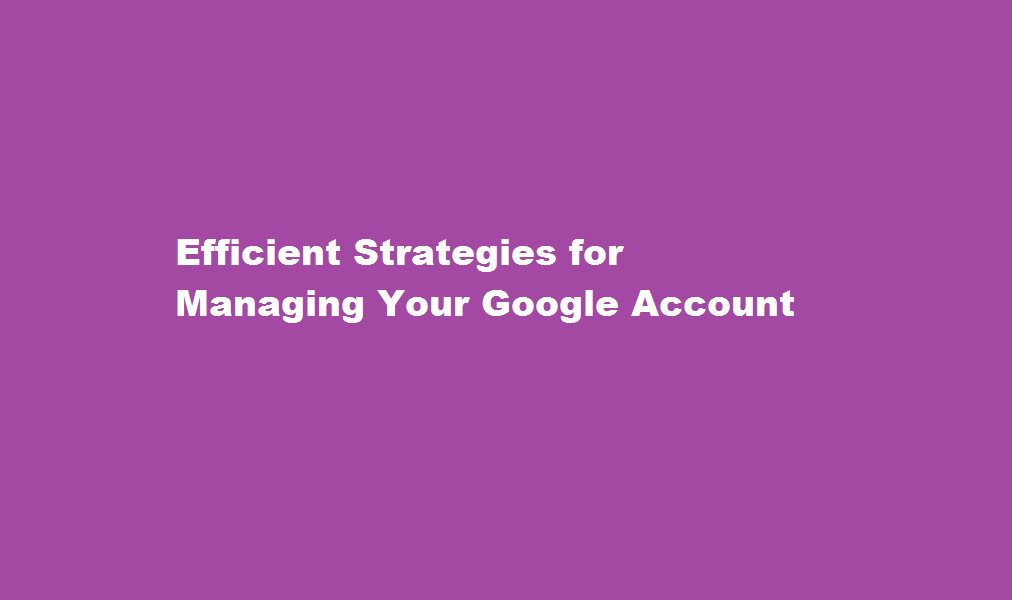 Introduction
In today's digital age, Google accounts have become an integral part of our lives. Whether it's accessing Gmail, using Google Drive, or utilizing various other Google services, effective management of your Google account is essential. In this article, we will explore practical strategies and tips to optimize your Google account usage, enhance security, and streamline your online activities.
Set Up a Strong and Secure Password
The first step in managing your Google account is to create a strong and unique password. Avoid common passwords and incorporate a combination of uppercase and lowercase letters, numbers, and special characters. Additionally, enable two-factor authentication (2FA) to add an extra layer of security. Google provides several options, such as text messages, authenticator apps, or security keys, for 2FA. By implementing these measures, you significantly reduce the risk of unauthorized access to your account.
Organize Your Google Account
To effectively manage your Google account, organize your various Google services and applications. Customize your account settings by accessing the "My Account" page, where you can configure preferences for privacy, security, and notifications. Moreover, categorize your emails using labels and filters in Gmail. Take advantage of Google Drive's folder system to keep your files organized. By implementing these organizational methods, you can save time and easily locate important information when needed.
Utilize Google's Productivity Tools
Google offers a suite of productivity tools that can enhance your efficiency and collaboration. Google Calendar allows you to schedule and organize your events, meetings, and tasks. Take advantage of Google Keep to create to-do lists, capture ideas, and set reminders. Google Docs, Sheets, and Slides enable seamless document creation, editing, and sharing. These cloud-based tools offer real-time collaboration, ensuring efficient teamwork and reducing the hassle of version control. By incorporating these productivity tools into your workflow, you can streamline your tasks and improve productivity.
Customize Google Services
Google provides various services and features that can be tailored to suit your preferences. Personalize your Google homepage by adding widgets and selecting relevant news sources. Customize your search experience by adjusting search settings and enabling safe search filters for family-friendly results. Take advantage of Google's personalized recommendations and notifications to receive updates on topics of interest. By customizing your Google services, you can create a personalized and user-friendly online experience.
Regularly Review Privacy and Security Settings
Privacy and security should be a top priority when managing your Google account. Periodically review and update your privacy settings to ensure you are comfortable with the information Google collects and shares. Limit the data Google retains and configure permissions for third-party applications. Regularly check your account activity and review the devices that have access to your account. Additionally, stay informed about recent security threats and follow best practices, such as avoiding suspicious emails or links. By staying vigilant and taking proactive measures, you can mitigate potential risks and protect your personal information.
FREQUENTLY ASKED QUESTIONS
What is the best way to manage multiple Google accounts?
Whichever browser you use, you can manage multiple Google accounts inside it. Log in to one of your Google accounts on a site such as Gmail or Google Drive. Look for your account picture icon in the top-right corner of the web page — it shows up on most Google sites. Click the icon and then click Add a new account.
What is the difference between Google Account and profile?
Your Chrome profile handles all of your Chrome browser preferences and settings including the extensions you like to use, bookmarks, saved passwords, and display settings (default fonts and color schemes). Signing into your Google account is how you access things like Gmail and Google Docs.
Conclusion
Effectively managing your Google account is crucial for optimizing your online experience. By setting up a strong password, organizing your account, utilizing productivity tools, customizing Google services, and regularly reviewing privacy and security settings, you can enhance efficiency, productivity, and data protection. 
Read Also : A Comprehensive Guide on Changing Address in Aadhaar Card