How to Track an iPhone's Location A Comprehensive Guide
3 min read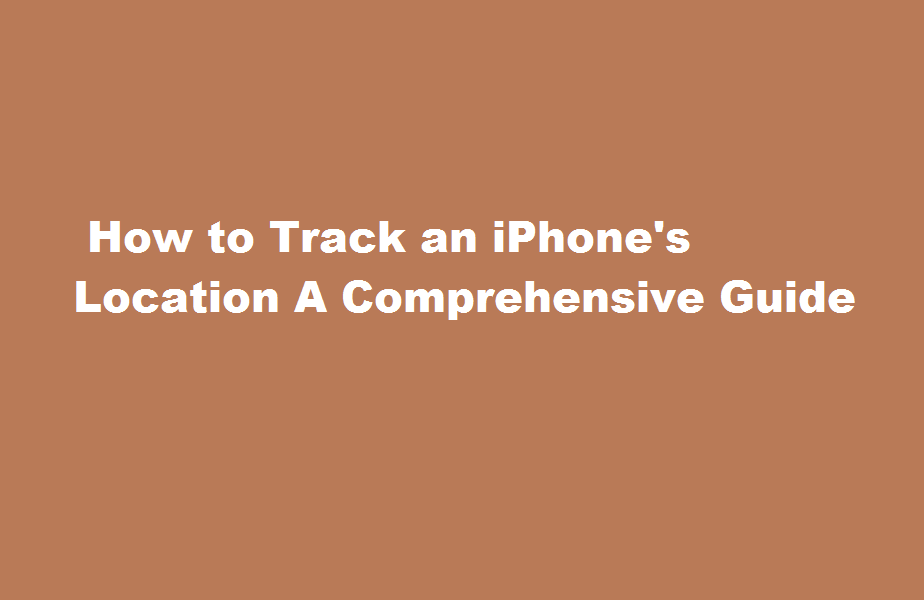 Introduction
In today's interconnected world, smartphones have become an integral part of our lives. Among them, the iPhone stands out as a popular choice due to its advanced features and security measures. One such feature is the ability to track an iPhone's location. Whether you've misplaced your device or have concerns about the whereabouts of a loved one, understanding how to track an iPhone can provide valuable peace of mind. In this article, we will explore various methods to track an iPhone's location effectively, ensuring you are equipped with the necessary knowledge to locate your device or ensure the safety of your loved ones.
Utilising Find My iPhone
Apple's Find My iPhone feature is a built-in tool that allows users to track their lost or stolen devices. To enable this feature, ensure that you have signed in to your iCloud account on the device you want to track. Follow these steps to track an iPhone using Find My iPhone
Launch the Find My iPhone app on another Apple device or visit the iCloud website on a computer.
Sign in with your iCloud credentials.
Select the device you wish to track from the list of devices associated with your Apple ID.
The app will display the device's location on a map, along with options to play a sound, activate Lost Mode, or remotely erase the device if necessary.
Using Third-Party Tracking Apps
Apart from the built-in tracking feature, several third-party applications are available for tracking iPhone locations. These apps offer additional functionalities and can be particularly useful when tracking multiple devices or monitoring the location of family members. Here are a few popular third-party tracking apps
Family Locator This app allows you to create a private circle where family members' locations can be tracked in real-time. It provides features such as geofencing and alerts for added security.
Life360 Life360 offers a comprehensive set of features for family tracking, including location sharing, emergency assistance, and driving safety reports.
Find My Friends Developed by Apple, this app allows users to share their location with trusted friends and family members. It provides a simple and intuitive interface for tracking loved ones.
Contacting your Service Provider
If you are unable to locate your iPhone using the aforementioned methods, reaching out to your service provider can be an alternative solution. Service providers possess the technical means to track a device's location based on its network signals. Contact their customer support and provide them with the necessary details, such as your device's unique identification number (IMEI) and your account information. They can assist you in tracking the device or provide information on recent network connections associated with your iPhone.
Frequently Asked Questions
What is the best way to track iPhone location?
You can use Find Devices on iCloud.com to find the approximate location of your iPhone, iPad, iPod touch, Mac, Apple Watch, AirPods, and Beats product if Find My is set up on the device and the device is online. To sign in to Find Devices, go to icloud.com/find.
Can the iPhone be tracked when off?
A phone that is turned off is difficult to track because it stops sending signals to cell towers. However, the service provider or internet provider can show the last location once it's switched back on.
Conclusion
Losing or misplacing an iPhone can be distressing, but thanks to advanced tracking technologies, locating your device is easier than ever. By utilising Apple's Find My iPhone, third-party tracking apps, or reaching out to your service provider, you can track the location of your iPhone and ensure the safety and security of your loved ones. Stay connected and informed with these powerful tracking tools at your disposal.
Read Also : Cloning WhatsApp on iPhone A Comprehensive Guide