Unveiling The Hidden Gems How to See Liked Posts on Instagram
4 min read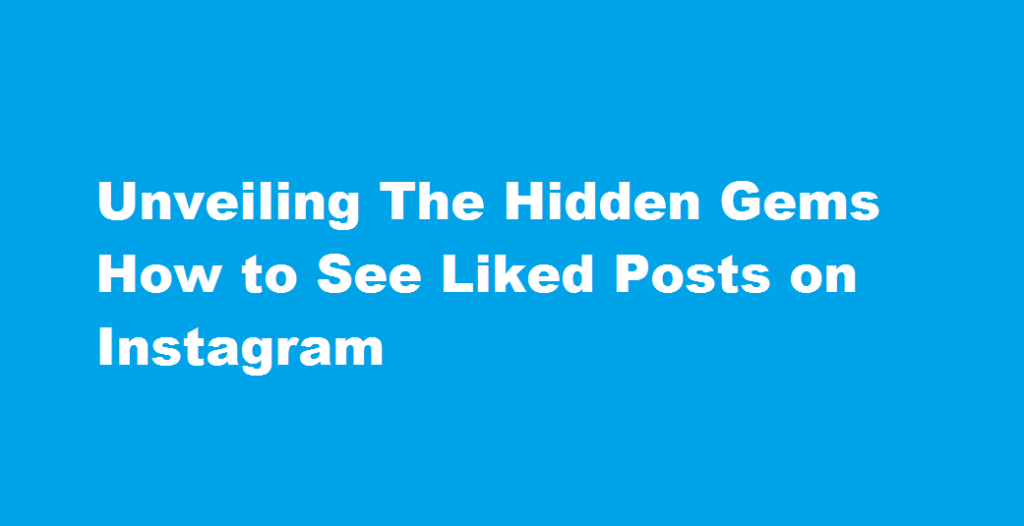 Introduction
Instagram, with its ever-growing user base, has become a hub for sharing captivating photos and engaging with content from around the world. One of the key aspects of Instagram's experience is the ability to like and engage with posts. However, finding previously liked posts on the platform can be challenging. In this article, we will guide you through the process of discovering your liked posts on Instagram, helping you unlock a treasure trove of memories and inspiration.
Utilise the Activity Tab
Instagram's Activity tab is a gold mine for accessing your liked posts. To access this feature, tap the heart-shaped icon located at the bottom of your screen. By default, the Activity tab displays recent activity from those you follow. However, to see your own liked posts, select the "You" tab at the top of the screen. Here, you will find a list of recent activities related to your account, including the posts you have liked. Scroll through the list or use the search function to find specific posts or accounts you want to revisit.
Leveraging the Saved Collections Feature
Instagram's Saved Collections feature allows you to organise and revisit your favourite content. To create a collection, open the post you want to save, tap the bookmark icon beneath it, and select "Save to Collection." You can either create a new collection or add it to an existing one. Once you have saved posts to collections, accessing them is easy. Go to your profile page and tap the menu icon (three horizontal lines) in the top right corner. From the menu, select "Saved," and you will find all your collections and the respective posts within them. This method not only helps you rediscover your liked posts but also enables you to categorise and revisit them based on specific themes or interests.
Third-Party Apps and Extensions
If you're looking for a more comprehensive solution to see your liked posts, various third-party apps and browser extensions are available. These applications are specifically designed to offer advanced features, including access to your entire liked post history. Some popular options include "IGSaver," "IG Analyzer," and "InsTrack." These tools provide a user-friendly interface that allows you to browse, search, and organise your liked posts conveniently. Additionally, they often provide insightful analytics about your Instagram activity, such as your most liked posts and engagement metrics.
Archive Feature
Instagram's Archive feature offers an alternative way to revisit your liked posts. To archive a post, go to your profile, tap on the post you want to archive, and select the three-dot menu icon. From the options, choose "Archive." This action hides the post from your profile and moves it to your personal archive. To access archived posts, go to your profile, tap the menu icon, and select "Archive." Here, you can explore your archived posts, including the ones you've previously liked.
FREQUENTLY ASKED QUESTIONS
Why can't I see posts I've liked on Instagram?
To fix "Posts you've liked" not showing on Instagram, you need to access the menu on your profile. After you've tapped on the menu icon, you'll be able to see the "Activity log" option. Tap on the "Activity log" option, tap on "Interactions", and tap on "Likes" to see your liked posts.
Are liked posts visible on Instagram? How do I turn on like count on Instagram?
To find the viewing settings, tap the [hamburger icon] on your Instagram profile and select Settings > Privacy > Posts. From here, you can find the toggle show or hide like counts. Creation Settings: you can choose to hide like counts for Feed posts you create on Instagram.
Conclusion
With the methods outlined in this article, you can now rediscover and enjoy the posts you have liked on Instagram. Utilise the Activity tab, create Saved Collections, or explore third-party apps to conveniently access and organise your liked posts. Whether you're seeking inspiration, reminiscing on cherished memories, or simply browsing through your digital timeline, these techniques empower you to make the most of your Instagram experience. So go ahead, unlock the hidden gems within your liked posts and let the nostalgia and inspiration flow!
Read Also : Unveiling the Secrets How to Gain 1K Instagram Followers in 5 Minutes