A Complete Guide on Sharing Snaps in Snapchat
3 min read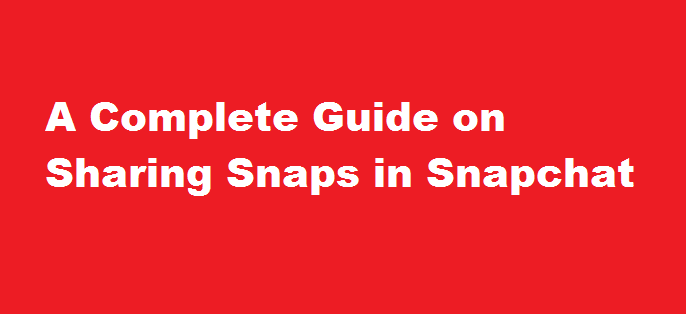 Introduction
In the era of visual communication, Snapchat has emerged as one of the most popular social media platforms, enabling users to share moments through ephemeral photos and videos known as snaps. With its unique features and innovative interface, Snapchat offers a seamless way to connect and express yourself creatively. In this article, we will delve into the ins and outs of sharing snaps on Snapchat, providing you with a comprehensive guide on how to make the most of this dynamic platform.
Getting Started with Snapchat
To begin sharing snaps on Snapchat, you first need to download the app and create an account. After signing up, you can customise your profile, add friends, and explore the various features Snapchat has to offer. Familiarise yourself with the interface, including the camera screen, the Friends screen, and the Discover screen, which showcases content from publishers and creators.
Capturing Snaps
Snapchat's camera is the heart of the platform, allowing you to capture photos and videos in a creative and engaging manner. To take a snap, tap the large circular button on the camera screen. You can switch between the front and rear cameras by double-tapping anywhere on the screen. For added fun, Snapchat offers a range of lenses, filters, and effects that can be applied in real-time by swiping left or right on the screen.
Adding Creative Elements
Snapchat provides an array of creative tools to enhance your snaps. Once you've taken a photo or video, you can personalise it by adding text, stickers, emojis, and drawings. Simply tap the icons on the right side of the screen to access these features. Additionally, you can use geofilters, which are location-based filters that overlay your snaps when you're in specific areas or events. Geofilters add a unique touch and can be found by swiping right after capturing a snap.
Sending Snaps to Friends
Snapchat's core functionality lies in sharing snaps with your friends. To send a snap, tap the blue arrow icon at the bottom right corner of the screen. Next, select the friends you want to send the snap to from your contact list. You can also choose to add the snap to your Story, a compilation of snaps visible to your friends for 24 hours. For more privacy, you can send snaps to specific friends by selecting the "Send to" option and choosing the desired recipients.
Exploring Discover and Snap Map
Snapchat offers more than just one-to-one communication. The Discover screen provides access to a wide range of content, including news, entertainment, and original shows from various publishers and creators. Swipe left on the camera screen to explore and discover new stories. Furthermore, Snapchat's Snap Map allows you to see where your friends are located and explore snaps from different locations around the world. To access Snap Map, simply pinch the camera screen or swipe down from the camera screen and tap the map icon in the bottom left corner.
FREQUENTLY ASKED QUESTIONS
What Does the Hourglass Emoji Mean on Snapchat?
The hourglass emoji means that your Snap Streak with your friend is about to expire. So you had better get snapping, and fast!
What Does the Cake Emoji Mean on Snapchat?
The cake emoji means that it's your friend's birthday. Snapchat is giving you a friendly reminder to wish them well on their special day.
Conclusion
Sharing snaps on Snapchat is an exciting and dynamic way to connect with friends and express your creativity. By following the steps outlined in this guide, you can make the most of Snapchat's features and create engaging content that captures your unique moments. Remember to explore the various lenses, filters, and creative tools available, as well as the Discover screen and Snap Map for additional experiences. Get ready to embark on a visual journey and share your snaps with the world through the vibrant Snapchat community.
Read Also : A Step-by-Step Guide on How to Create a Facebook Account