Enrolling for The National Pension Scheme A Comprehensive Guide
4 min read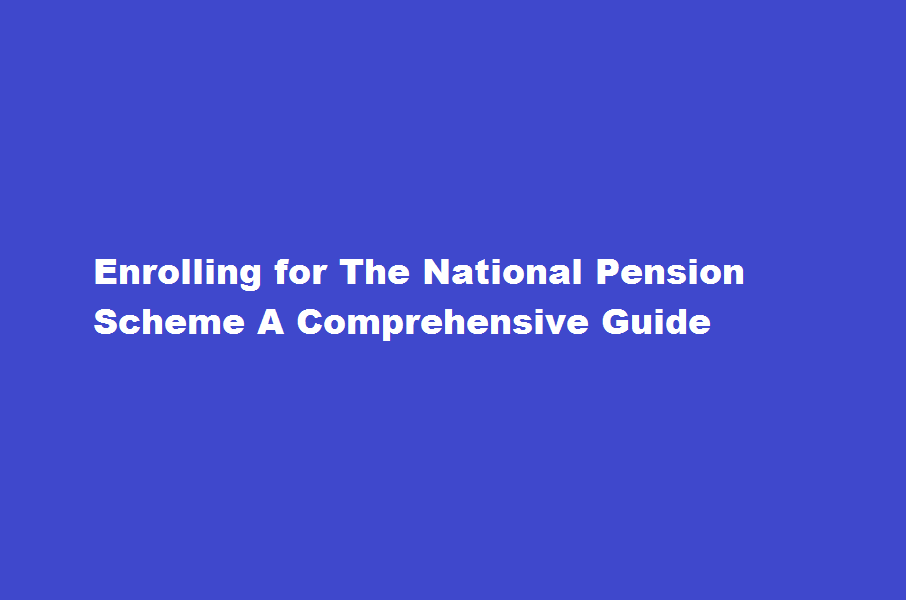 Introduction
The National Pension Scheme (NPS) introduced by the government aims to provide individuals with a secure and sustainable pension system. It offers a voluntary, long-term investment option to save for retirement. This article provides a step-by-step guide on how to enroll for the government's National Pension Scheme.
Understand the National Pension Scheme (NPS)
Before enrolling, it is important to familiarize yourself with the National Pension Scheme. NPS is a government-backed retirement savings scheme that allows individuals to contribute towards building a retirement corpus. It is open to both employees in the organized and unorganized sectors as well as self-employed individuals.
Check Eligibility Criteria
To enroll for the National Pension Scheme, you need to ensure that you meet the eligibility criteria. Any Indian citizen between the ages of 18 and 65 can join the NPS. The scheme allows both resident and non-resident Indians to participate. However, certain categories of individuals, such as those covered under the Employees' Provident Fund (EPF) or the Employees' State Insurance Corporation (ESIC), may have limitations on contributions.
Choose an NPS Account Provider
The National Pension Scheme is managed by various Pension Fund Managers (PFMs) appointed by the government. These PFMs are responsible for managing the investment of the contributions made by NPS subscribers. Research and compare the different PFMs based on factors such as fund performance, service quality, and charges associated with the account. Choose a PFM that suits your preferences and requirements.
Fill the Registration Form
To enroll in the NPS, you need to fill the registration form, also known as the Permanent Retirement Account Number (PRAN) application form. This form is available online on the official website of the National Securities Depository Limited (NSDL) or the Karvy CRA. Provide accurate personal information, such as name, date of birth, address, and contact details.
Submit Supporting Documents
Along with the registration form, you will need to submit supporting documents for identity proof, address proof, and age proof. These may include documents such as Aadhaar card, PAN card, passport, driver's license, voter ID card, or any other document specified by the NPS authorities. Ensure that you provide valid and verified documents to complete the enrollment process.
Contribution and Fund Allocation
Once your NPS account is successfully opened, you can start contributing towards your retirement savings. Determine the contribution amount you wish to make regularly, either through a lump sum or systematic investment plan (SIP). You can choose from different investment options provided by the NPS, such as equity funds, corporate bonds, or government securities. You can also select the percentage allocation among these options based on your risk appetite.
Benefits of Participating in NPS
Participating in the National Pension Scheme offers several benefits, including
Retirement Security NPS provides a reliable retirement savings platform, ensuring financial security during your post-retirement years.
Flexibility and Portability NPS offers flexibility in choosing contribution amounts and investment options. It also allows portability, enabling you to transfer your NPS account between different employers or sectors.
Tax Benefits Contributions made towards NPS are eligible for tax deductions under Section 80C and 80CCD(1B) of the Income Tax Act, providing additional tax savings.
Professional Fund Management NPS funds are managed by experienced Pension Fund Managers, ensuring professional management and potential growth of your retirement savings.
Annuity Options At the time of retirement, you can utilize the accumulated corpus to purchase an annuity, which provides a regular income stream during your retirement years.
Frequently Asked Questions (FAQs)
Who is eligible to enroll in the National Pension Scheme (NPS)?
Any Indian citizen between the ages of 18 and 65 can enroll in the National Pension Scheme. This includes individuals employed in the organized and unorganized sectors, as well as self-employed individuals. Resident and non-resident Indians can also participate in the scheme.
How do I choose a Pension Fund Manager (PFM) for my NPS account?
The National Pension Scheme offers multiple Pension Fund Managers (PFMs) to choose from. Research and compare the PFMs based on their performance, service quality, charges, and other factors. You can visit the official NPS website to access information about the different PFMs and make an informed decision.
Is there a minimum contribution requirement for NPS?
Yes, the National Pension Scheme requires a minimum contribution of Rs. 500 per contribution and Rs. 6,000 per annum. However, there is no cap on the maximum contribution amount.
Can I withdraw my NPS contributions before retirement?
The National Pension Scheme is primarily designed to provide retirement benefits. However, there are certain specified circumstances, such as critical illness or partial withdrawal for specific purposes, where partial withdrawal is allowed. Complete withdrawal before retirement is generally not permitted.
Read Also : Registering for The National Apprenticeship Promotion Scheme A Step-by-Step Guide