A Step-by-Step Guide on How to Apply for an SBI Credit Card
3 min read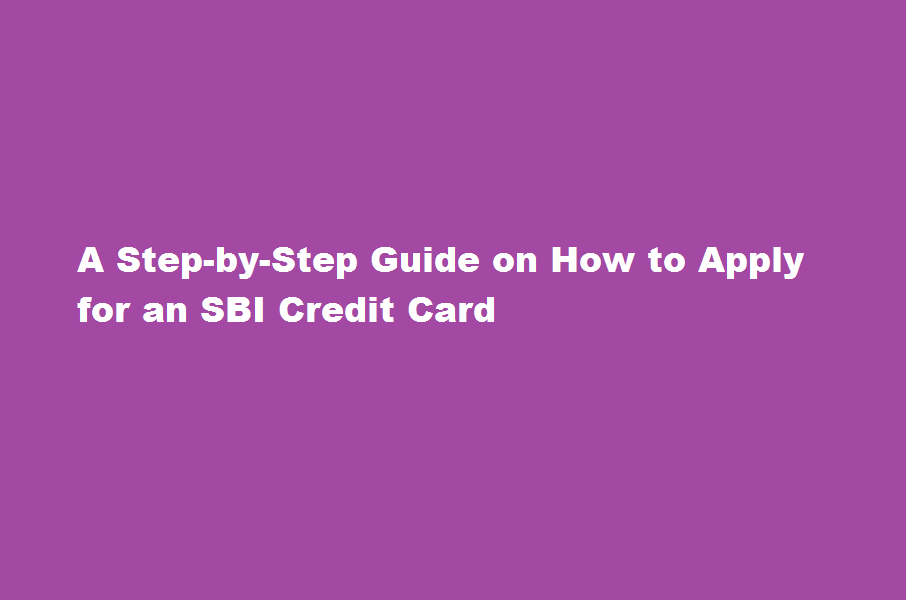 Introduction Applying for a credit card can be an important financial decision. State Bank of India (SBI), one of the leading banks in India, offers a wide range of credit cards tailored to suit different needs and lifestyles. If you're interested in obtaining an SBI credit card, this article will guide you through the application process.
Research and Choose the Right Card
Before applying for an SBI credit card, it's essential to research and choose the card that best fits your requirements. SBI offers various credit cards, including travel cards, rewards cards, shopping cards, and more. Consider factors such as annual fees, interest rates, rewards programs, and benefits associated with each card.
Check Eligibility Criteria
Each SBI credit card has specific eligibility criteria that need to be met. Common requirements include a minimum age, income criteria, and a good credit score. Ensure that you meet the eligibility criteria before proceeding with the application.
Gather Required Documents
To complete your credit card application, you will need to provide certain documents. These typically include identity proof (such as Aadhaar card, passport, or PAN card), address proof, income proof (salary slips, income tax returns, etc.), and a recent passport-sized photograph. Make sure to have these documents ready before starting the application process.
Apply Online or Offline
SBI provides both online and offline channels for credit card applications. To apply online, visit the SBI website or mobile app, select the desired credit card, and click on the "Apply Now" button. Fill in the required details accurately and upload the necessary documents. Alternatively, you can visit the nearest SBI branch and submit a physical application along with the required documents.
Await Verification and Approval
Once you've submitted your application, it will undergo verification. SBI may contact you for further information or clarification if needed. If your application meets the eligibility criteria and is approved, you will receive a notification. The credit card will be delivered to your registered mailing address within a specified timeframe.
Conclusion Applying for an SBI credit card is a straightforward process that requires careful consideration, accurate information, and necessary documentation. By following the step-by-step guide outlined above, you can navigate the application process with ease. Remember to choose a card that aligns with your financial goals and habits to maximize the benefits and rewards it offers.
Frequently Asked Questions
What is the minimum age requirement to apply for an SBI credit card?
 The minimum age requirement to apply for an SBI credit card is typically 18 years.
Can I apply for an SBI credit card if I don't have an account with SBI?
 Yes, you can apply for an SBI credit card even if you don't have an account with SBI. However, you will need to meet the eligibility criteria and provide the necessary documents as specified by SBI.
How long does it take to receive the SBI credit card after approval? 
The delivery time for the SBI credit card varies, but it usually takes around 7-15 business days to receive the card after approval.
Read Also : Understanding the Differences Between LIC Single Premium Policies and Regular Premium Policies