A Comprehensive Guide How to Apply for a Passport
4 min read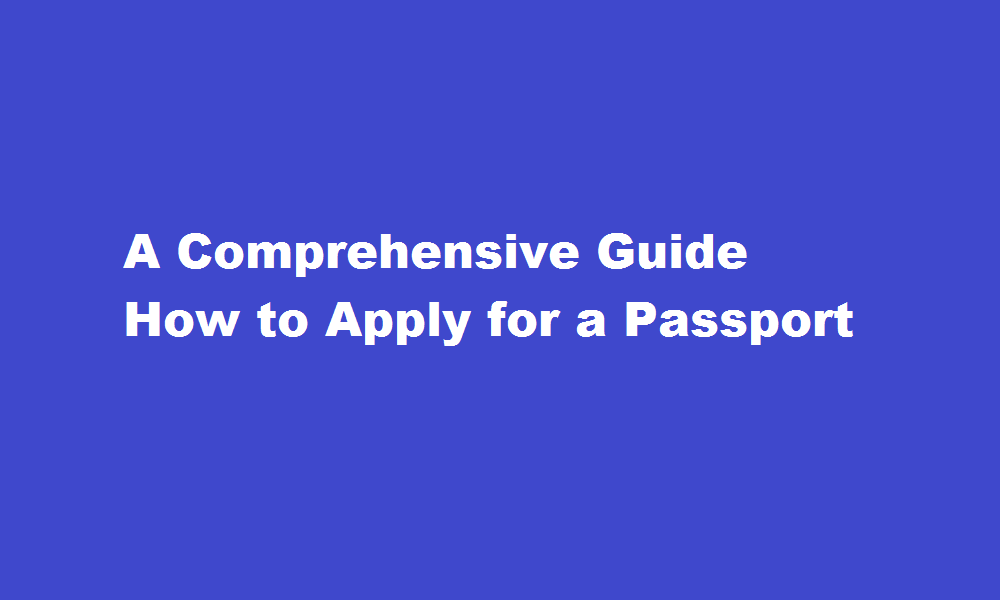 Introduction
A passport is an essential travel document that grants you access to explore the world. Whether you're planning an exciting vacation or seeking professional opportunities abroad, obtaining a passport is the first step. This article aims to provide a comprehensive guide on how to apply for a passport, ensuring a smooth and hassle-free process. From gathering necessary documents to submitting your application, let's dive into the details to help you navigate the passport application process with ease.
Understand the Requirements
Before initiating the passport application process, it is crucial to familiarize yourself with the requirements. Generally, you'll need the following documents
Proof of citizenship: Birth certificate, naturalization certificate, or previously issued passport.
Proof of identity: Driver's license, state ID, or other government-issued identification.
Passport-sized photos: Follow the guidelines provided by the passport agency.
Application form: Fill out the form accurately and legibly, ensuring all information is up-to-date and correct. Additionally, be prepared to pay the application fee, which varies based on your age, type of passport, and processing options.
Locate a Passport Acceptance Facility
To apply for a passport, you'll need to visit a designated passport acceptance facility. These facilities can be found in post offices, clerks of court, public libraries, or other government buildings. Use the State Department's online passport acceptance facility search tool to find a convenient location near you. Once you locate a facility, contact them to schedule an appointment if required, as some facilities may operate on an appointment-only basis.
Gather the Required Documents
Ensure you have all the necessary documents before your appointment. This includes proof of citizenship, proof of identity, passport photos, and a completed application form. Take note of any additional documents required, such as parental consent for applicants under 16 years of age. It is advisable to bring both original documents and copies, as some facilities may request them for verification purposes. Make sure all documents are valid and not expired.
Complete the Application Form
Fill out the passport application form accurately and legibly. The form can be completed online or by hand, depending on the application process in your country. Provide all the necessary details, including your full name, date of birth, contact information, and emergency contact details. Review the form carefully to avoid any mistakes or omissions that could cause delays in processing your application.
Submit Your Application
Visit the passport acceptance facility on your scheduled appointment date and time. Bring all the required documents, including the completed application form, original identification, and photocopies as per the facility's instructions. The acceptance agent will review your application, verify your documents, and collect the necessary fees. Your application will be securely forwarded for processing.
Track the Application Status
After submitting your application, you can track its status online using the passport agency's tracking system. This allows you to stay updated on the progress of your application and estimated processing times. The system typically provides information on when your passport is in production, dispatched for delivery, or if any additional information is required. Make a note of the tracking number provided during the submission process to easily access your application status.
FREQUENTLY ASKED QUESTIONS
What is the reason for applying for a passport?
Whether at home or abroad, a passport proves that you have the right to be in your home country (or temporary access to another country). Pretty straight-forward reason to own a passport, but definitely worth mentioning and very important!
Is there any interview for a passport?
After the passport interview, you will get an SMS regarding the progress status of your application. The next step is the police verification. You will get an intimation on the verification officer's name and phone number- he is assigned for your passport procedure. Go to the corresponding police station.
Conclusion
 Applying for a passport is a crucial step for international travel, and understanding the process can make it much simpler. By following this comprehensive guide, you can gather the necessary documents, complete the application form accurately, and submit your application with confidence. Remember to stay organized, double-check your information, and keep track of your application's progress. Soon, you'll be ready to embark on exciting adventures across the globe with your new passport in hand.
Read Also : A Comprehensive Guide on Purchasing iCloud Storage