A Step-By-Step Guide On How To Change Your Netflix Plan
3 min read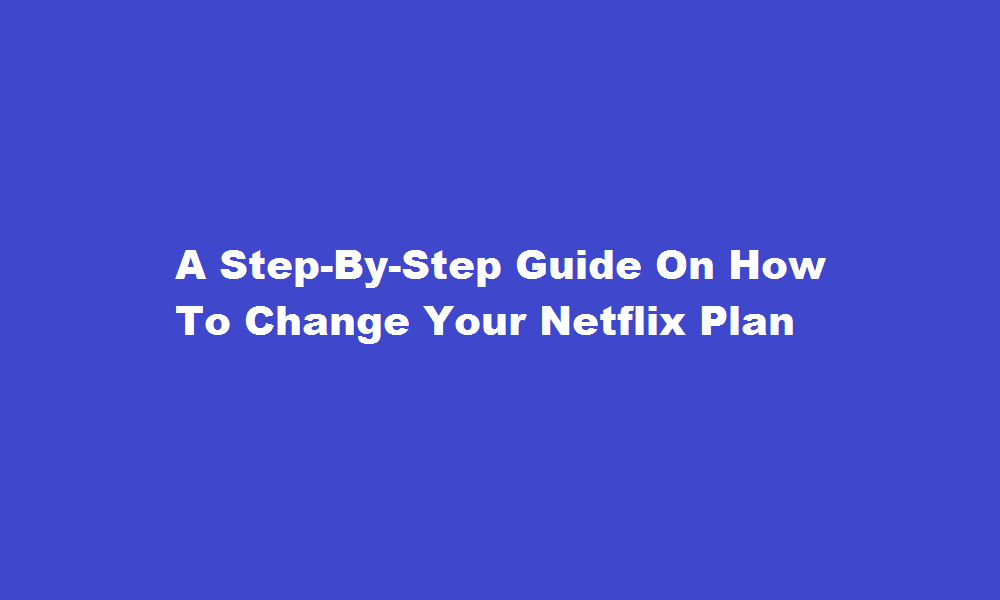 Introduction
Netflix, the popular streaming platform, offers a variety of subscription plans to cater to different user preferences. Whether you want to upgrade to a higher-tier plan or downgrade to a more affordable option, changing your Netflix plan is a straightforward process. In this article, we will provide you with a step-by-step guide on how to change your Netflix plan, enabling you to tailor your subscription to better suit your needs.
Assess your needs and preferences
Before you delve into the process of changing your Netflix plan, take a moment to evaluate your viewing habits and budget. Consider factors such as the number of users in your household, the desired video quality (Standard Definition, High Definition, or Ultra High Definition), and the allowance for simultaneous streaming on multiple devices. Understanding your needs and preferences will help you make an informed decision about which Netflix plan best meets your requirements.
Log in to your Netflix account
To begin the process, open your web browser and navigate to the Netflix website. Enter your account credentials (email address and password) to log in. If you are using the Netflix mobile app, open the app and sign in to your account.
Access the account settings
Once you are logged in, click on the profile icon in the top right corner of the screen. From the dropdown menu, select "Account" to access your account settings. On the mobile app, tap the "Menu" button (usually three horizontal lines) in the top left corner, then choose "Account" from the menu options.
Choose the "Change Plan" option
Within the account settings, scroll down until you find the "Plan Details" section. Here, you will see your current plan and its details. To change your plan, click or tap on the "Change Plan" option. This will take you to a page where you can view and select from the available Netflix subscription options.
Select a new plan
On the "Change Plan" page, you will see the various subscription options offered by Netflix. These options typically include Basic, Standard, and Premium plans, each with different features and pricing. Carefully review the details of each plan, such as video quality, number of devices, and pricing. Once you have decided on the plan that suits your needs, click or tap on the corresponding "Select" button.
Review and confirm the changes
After selecting your desired plan, Netflix will present you with a summary of the changes, including the new monthly price. Take a moment to review the details to ensure everything is accurate. If you are satisfied with the changes, click or tap on the "Continue" or "Confirm" button to proceed.
Enjoy your new Netflix plan
Congratulations! You have successfully changed your Netflix plan. Your new subscription will take effect immediately, and you can start enjoying the features and benefits of your chosen plan. Remember that you can always repeat this process whenever you wish to modify your subscription to better align with your evolving preferences.
FREQUENTLY ASKED QUESTIONS

Why did my Netflix plan change automatically?
As we continue to add more TV shows and movies and introduce new product features, our plans and prices may change. We also may adjust plans and pricing to respond to local market changes, such as changes to local taxes or inflation.
Conclusion
Changing your Netflix plan allows you to customise your streaming experience to suit your needs and budget. By following the step-by-step guide outlined in this article, you can easily switch between different subscription options offered by Netflix. Whether you want to upgrade to enjoy Ultra HD content or adjust the number of simultaneous streams, the flexibility provided by Netflix enables you to enjoy an optimal viewing experience tailored to your preferences.
Read Also : A Step-By-Step Guide How to Change Servers in BGMI