Discovering The Blocked Numbers List on WhatsApp A Comprehensive Guide
3 min read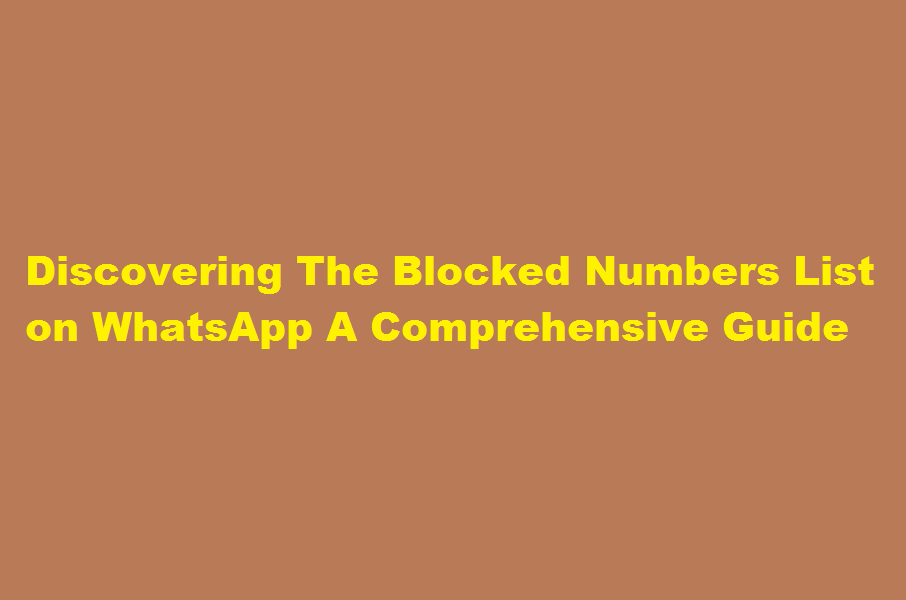 Introduction
WhatsApp has become one of the most popular messaging platforms worldwide, enabling millions of users to connect with friends, family, and colleagues. One of the key features offered by WhatsApp is the ability to block unwanted contacts, ensuring a more secure and pleasant experience. However, many users may find it challenging to locate and manage their blocked numbers list effectively. In this article, we will provide you with a step-by-step guide on how to find the blocked numbers list on WhatsApp, allowing you to take control of your contacts and ensure a more personalised messaging experience.
Understanding WhatsApp Blocking
Before delving into the process of finding your blocked numbers list, it is essential to understand how WhatsApp blocking works. When you block a contact on WhatsApp, they will no longer be able to send you messages, call you, or see your profile picture or status updates. Similarly, you will not be able to receive their messages, calls, or view their profile details. Blocking a contact is an effective way to prevent unwanted communication and maintain your privacy on the platform.
Accessing the Blocked Numbers List
To find the blocked numbers list on WhatsApp, follow these simple steps
Open WhatsApp on your smartphone and tap on the three dots located in the top-right corner of the screen to access the menu.
From the menu options, select "Settings" to proceed.
In the Settings menu, choose "Account" and then select "Privacy."
Within the Privacy settings, locate and tap on the "Blocked contacts" option. This will provide you with access to the blocked numbers list.
Managing the Blocked Numbers List
Once you have accessed the blocked numbers list on WhatsApp, you will find a comprehensive view of all the contacts you have blocked. Here are some additional features and options available to manage your blocked contacts effectively
Unblock Contacts  To unblock a contact, simply locate their name on the blocked numbers list and tap on it. A confirmation prompt will appear, asking if you want to unblock the contact. Confirm your decision, and the contact will be unblocked, allowing them to interact with you on WhatsApp once again.
Block New Contacts To block a new contact, tap on the "Add new" option within the blocked numbers list. You can then search for the contact you wish to block and select them from your phone's address book. Once blocked, they will be added to your blocked numbers list.
Reporting Spam If you encounter spam or abusive behaviour from a particular contact, you can report it directly from the blocked numbers list. Tap on the contact's name, scroll to the bottom, and select the "Report" option. WhatsApp will investigate the reported account and take appropriate action if necessary.
Frequently Asked Questions
How can I see all blocked numbers on WhatsApp?
Blocked numbers will be visible in the Blocked section (iPhone and KaiOS) or Blocked contacts section (Android) of your WhatsApp Settings. The only way to remove blocked contacts from this list is to unblock them.
Can I see a blocked person on WhatsApp?
You can no longer see a contact's last seen or online in the chat window. Learn more here. You do not see updates to a contact's profile photo. Any messages sent to a contact who has blocked you will always show one check mark (message sent), and never show a second check mark (message delivered).
Conclusion
Effectively managing your blocked numbers list on WhatsApp is crucial to maintaining your privacy and controlling your messaging experience. By following the simple steps outlined in this article, you can easily access, review, and manage your blocked contacts on WhatsApp. Remember, blocking unwanted contacts can help you create a more secure and enjoyable environment for your conversations. Take control of your contacts today, and enjoy a hassle-free messaging experience on WhatsApp.
Read Also : Ultimate Guide How to Get Spotify Premium for 6 Members at Once