How to Participate in KBC A Guide to Fulfilling Your Dream of Being on India's Biggest Quiz Show
4 min read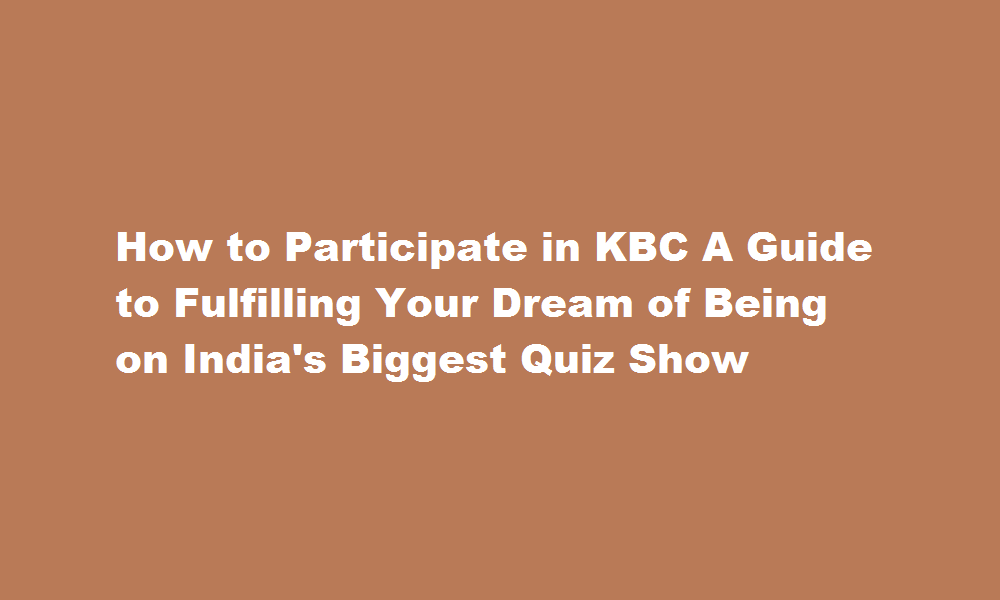 Introduction
Kaun Banega Crorepati (KBC) is one of India's most popular television quiz shows, offering participants a chance to win substantial cash prizes. If you've ever dreamt of being in the hot seat opposite the legendary host, Mr. Amitabh Bachchan, this guide will provide you with valuable insights on how to participate in KBC and increase your chances of becoming a crorepati.
Eligibility Criteria
Before diving into the participation process, it's essential to understand the eligibility criteria for KBC. To participate, you must be an Indian citizen, over 18 years of age, and possess valid identification proof. Additionally, you should not have any criminal record or be associated with the show's production team or sponsors. Understanding and meeting these basic requirements is the first step towards realizing your KBC aspirations.
Registration Methods
KBC offers multiple avenues for registration, allowing a wide range of individuals to participate. The most common method is through the KBC official website, where you can find a registration form that needs to be filled out with personal details, such as name, contact information, and address. Additionally, you can participate via the KBC Play Along app or through SMS, which involves sending a specific keyword to a designated number. It's important to stay updated with the official announcements regarding registration to ensure you don't miss out on any opportunities.
Selection Process
Once you have successfully registered, the selection process begins. KBC employs a multi-stage selection procedure that typically includes a written test, phone interviews, and personal interviews. The written test evaluates your general knowledge and reasoning abilities, while the subsequent interviews help the show's producers gauge your personality, communication skills, and overall suitability for the program. The selection process can be rigorous, so it's crucial to prepare extensively and stay confident throughout the evaluation stages.
Preparing for KBC
To enhance your chances of success, diligent preparation is essential. Familiarize yourself with a wide range of subjects, including current affairs, history, geography, science, and literature. Regularly read newspapers, watch informative shows, and solve quizzes to expand your knowledge base. Practice solving questions within the time constraints to simulate the pressure of the actual show. Additionally, study previous episodes of KBC to understand the question patterns and Amitabh Bachchan's style of hosting. Remember, the more you prepare, the better equipped you'll be to handle the intense quiz environment.
On the Show
If you're fortunate enough to be selected, it's essential to stay calm and composed during the actual show. Listen attentively to the questions, analyze them carefully, and avoid rushing into answers. If you're unsure about a particular question, utilize the lifelines available, such as audience poll, phone-a-friend, or expert opinion. Remember, KBC is not only a test of knowledge but also an exercise in strategic decision-making. Stay focused, trust your instincts, and don't let nerves get the best of you.
FREQUENTLY ASKED QUESTIONS
How can I participate in KBC 2023?
The only way to get registered for KBC 2023 is through online means. There are no such offline options that you can take the help of. You need to either register with the help of the SONY Liv application, through SMS, or through IVR.
Is KBC 2023 registration open?
The KBC 15 Registration 2023 began on April 29th, 2023, and will end on May 15th, 2023. Amitabh Bachchan has been the presenter of Kaun Banega Crorepati ever since the show first aired, except for the third season, which Shah Rukh Khan hosted.
When did KBC start in 2023?
Sony Entertainment Television announced the 15th season of KBC on 18 April 2023. The promo for registration was also released on the same day. The Registration started from 29 April 2023 at 9.00 PM IST.
Conclusion
Participating in KBC can be a life-changing experience, providing a platform to showcase your intelligence and win incredible prizes. By understanding the eligibility criteria, registration methods, selection process, and preparing diligently, you can maximize your chances of achieving your dream of being on KBC. Remember, persistence, knowledge, and confidence are the keys to success on this iconic quiz show.
Read Also : A Comprehensive Guide to Partitioning Your Hard Disk