Get Digitally Empowered How to Participate in The National Digital Literacy Mission (NDLM)
4 min read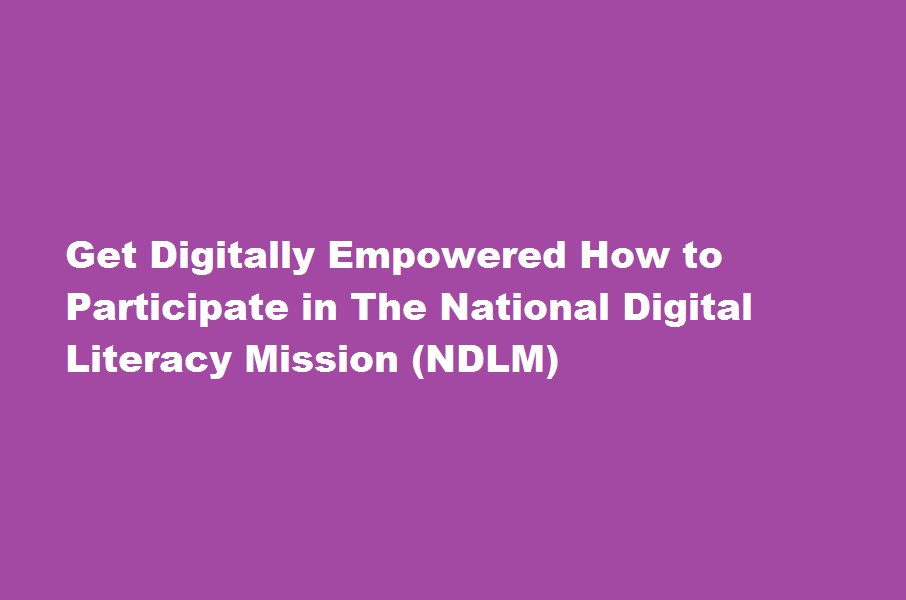 Introduction
In the digital age, possessing adequate digital literacy skills has become essential for personal and professional growth. The National Digital Literacy Mission (NDLM) in India aims to bridge the digital divide by imparting digital skills to individuals across the country, especially those from rural and marginalized communities. This article explores how you can participate in the NDLM and reap the benefits of being digitally empowered.
Understanding the National Digital Literacy Mission (NDLM)
The NDLM was launched by the Ministry of Electronics and Information Technology to make at least one person in every household digitally literate. The mission provides training modules on basic computer skills, internet usage, online transactions, and digital governance. By participating in the NDLM, individuals can gain the necessary skills to thrive in the digital world.
To enroll in the NDLM, follow these steps
Visit the official NDLM website or contact the nearest Common Service Center (CSC).
Register yourself by providing basic details such as name, address, and contact information.
Choose the training center or CSC nearest to your location.
Submit the required documents, such as proof of identity and address, at the chosen center.
Once your registration is approved, you will receive further instructions regarding the training program.
Training Modules
The NDLM training program covers the following modules
Basic Computer Skills Learn about computer hardware, operating systems, and essential software applications.
Internet Usage Discover how to browse the internet, search for information, and utilize email services.
Online Transactions Gain knowledge about online banking, digital payments, and secure online transactions.
Digital Governance Understand government services delivered digitally, such as applying for documents and accessing benefits.
Benefits of Participating in the NDLM
Participating in the NDLM offers numerous benefits, including
Enhanced Employability Digital literacy skills are highly valued in today's job market. By acquiring these skills, you improve your chances of securing employment or advancing in your career.
Access to Information Digital literacy enables you to access a vast pool of information, opening doors to knowledge, educational resources, and global perspectives.
Improved Communication Digital literacy skills empower you to communicate effectively through email, social media, and other online platforms, fostering connections and collaborations.
Financial Inclusion Understanding online transactions and digital payments can help you manage your finances efficiently and participate in the digital economy.
Digital Empowerment By becoming digitally literate, you gain the confidence and skills to navigate the digital landscape, empowering you to take advantage of emerging opportunities.
Frequently Asked Questions (FAQs)
Who is eligible to participate in the NDLM?
Any Indian citizen, especially those from rural and marginalized communities, can participate in the NDLM. There is no age restriction or educational qualification required.
Is there a fee for NDLM training?
The NDLM training is provided free of cost to participants. However, there may be minimal charges for study material or certification, if applicable.
How long does the NDLM training program last?
The duration of the training program may vary depending on the training center and the modules covered. Typically, it ranges from a few weeks to a couple of months.
Are there any certification or assessment processes in the NDLM?
Yes, participants can receive a certificate upon successful completion of the NDLM training program. Assessments may be conducted to evaluate the proficiency of participants in the acquired digital literacy skills.
Can I apply for NDLM training online?
While online registration is available, it is recommended to visit the nearest Common Service Center (CSC) for a smoother enrollment process and guidance.
Conclusion
The National Digital Literacy Mission (NDLM) is an excellent opportunity for individuals across India to enhance their digital literacy skills. By participating in the NDLM, you can acquire valuable knowledge and skills that will empower you to thrive in the digital era. Embrace the mission, enroll in the training program, and embark on a journey to become digitally literate, opening doors to numerous opportunities in today's interconnected world.
Read Also : Strengthening Social Security Underrated Schemes in India Providing Safety Nets for The Elderly and Disabled