A Comprehensive Guide Renewing Your SBI Debit Card After Expiry
3 min read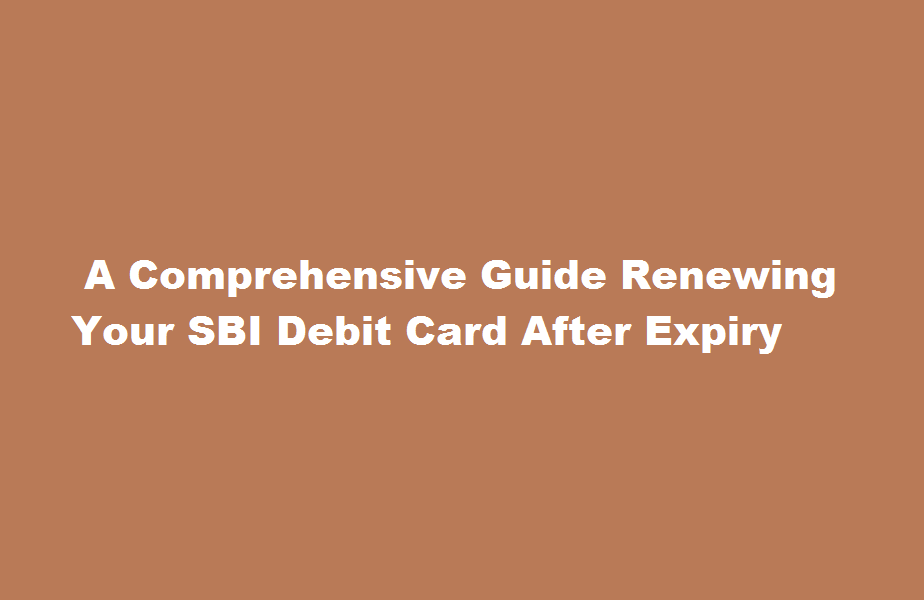 Introduction
A State Bank of India (SBI) debit card is a convenient financial tool that offers easy access to your funds. However, like all cards, it has an expiry date. When your SBI debit card expires, it is essential to renew it promptly to continue enjoying seamless banking services. In this article, we will provide a step-by-step guide on how to renew your SBI debit card after expiry, ensuring uninterrupted access to your finances.
Understanding Debit Card Expiry
A debit card's expiry date is printed on the front of the card and typically lasts for three to five years. It is crucial to renew your card before its expiration to avoid any inconvenience in accessing your funds or conducting transactions. The renewal process is relatively simple, and SBI offers multiple options to ensure a smooth transition from the old card to the new one.
Identifying Expiry Date
The first step in renewing your SBI debit card is to determine the expiry date. It is usually mentioned as "Valid Thru" or "Valid Through" on the front of the card. Mark this date on your calendar to ensure you initiate the renewal process well in advance.
Renewing Offline
SBI offers an offline renewal option for customers who prefer face-to-face interactions. To renew your debit card offline, visit your nearest SBI branch and approach the customer service desk. Request a debit card renewal form, fill in the required details accurately, and submit it along with any supporting documents requested. The bank executive will guide you through the rest of the process, which may include a signature or biometric verification.
Renewing Online
Renewing your SBI debit card online is a convenient and time-saving option. Follow these steps
Log in to your SBI Net Banking account using your username and password.
Navigate to the 'e-Services' or 'ATM Card Services' section.
Select the option for debit card renewal and follow the instructions on the screen.
Verify your identity using the required credentials.
Confirm the renewal request and provide your current address for card delivery.
Pay the renewal fee, if applicable.
Upon successful submission, your new debit card will be dispatched to your registered address.
ATM Renewal
Another quick and convenient way to renew your SBI debit card is through an ATM. Visit any SBI ATM and insert your expired debit card. Select the 'Services' option, followed by 'Card Services' and 'Card Renewal.' Enter your PIN and confirm the renewal request. The ATM will issue a printed acknowledgment, and your new card will be dispatched to your registered address.
Important Considerations
Keep track of your card's expiry date to initiate the renewal process in advance.
Ensure your contact information, especially your address, is up to date in the bank's records.
Check if there are any charges associated with the renewal process.
Safely dispose of your expired card by cutting it into multiple pieces to prevent misuse.
Frequently Asked Questions
How can I renew my SBI debit card after the expiry date?
You can apply for the replacement EMV Chip Debit Card by visiting your home Branch. Alternatively, you can also request for issuance of the replacement EMV Chip Debit Card through internet banking (www.onlinesbi.com).
Does SBI debit card renew automatically?
Validity of the Card: The validity of the Card is printed on the face of the Card. The Card is valid through to the last date of the month of expiry. Renewal of Card: The Bank will automatically renew the Card free of cost the Card on the expiry and will send the Card to the customers registered address.
Conclusion
Renewing your SBI debit card after expiry is a crucial step to continue enjoying uninterrupted banking services. Whether you choose the offline method by visiting an SBI branch or opt for online renewal through net banking or an ATM, the process is simple and efficient. By following the steps mentioned in this article, you can seamlessly renew your SBI debit card and ensure uninterrupted access to your funds.
Read Also : A Step-by-Step Guide to Reissuing Your SBI Passbook