How to Save Instagram Stories with Music A Step-by-Step Guide
3 min read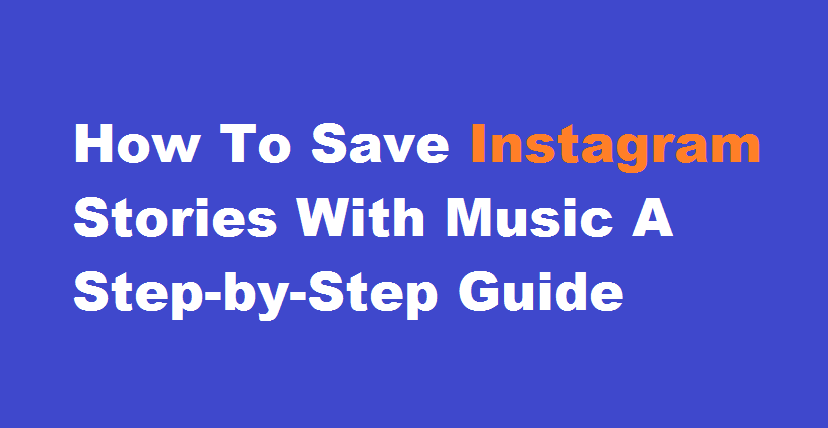 Introduction
Instagram Stories have become a popular way to share moments with friends and followers. With the introduction of music stickers, users can now add their favourite tracks to enhance their stories. However, many people are unsure of how to save these stories with music. In this article, we will provide a comprehensive guide on how to save Instagram Stories with music, ensuring that your favourite memories and tunes are preserved for future enjoyment.
Create an Instagram Story
To begin, open the Instagram app on your mobile device and tap on your profile picture or swipe right from your feed to access the Stories camera. Capture a photo or record a video by pressing the shutter button. Alternatively, you can swipe up to select an existing photo or video from your gallery. Customise your story by adding filters, text, stickers, and other creative elements before moving to the next step.
Add Music to Your Story
After capturing or selecting your desired visual content, it's time to add music to your Instagram Story. Tap on the sticker icon located at the top of the screen (it looks like a square smiley face). From the sticker options that appear, select the Music sticker. You can then search for specific songs, browse popular tracks, or explore different genres. Once you've found the perfect song, you can trim it to select the desired segment and adjust its placement and size on your Story.
Before saving your Story with music, take a moment to preview it by tapping the play button at the bottom of the screen. Ensure that the music aligns perfectly with the visuals and sets the right mood. If everything looks and sounds great, you can share your Story by tapping the "Your Story" button at the bottom left corner of the screen. Alternatively, you can send it to specific friends or groups by tapping the "Send To" button.
Saving Your Story with Music
Saving your Instagram Story with music requires a third-party app called "Instagram Story Saver." This app is available for both iOS and Android devices. To begin, download and install the app from your device's app store. Open the app and log in with your Instagram credentials. Once logged in, you will see a list of your recent Stories. Select the Story you wish to save, and the app will prompt you to save it to your device's gallery. Confirm the save, and your Story, complete with music, will be stored on your device.
Organising and Enjoying Your Saved Stories
Now that you have successfully saved your Instagram Stories with music, it's important to organise them for easy access. You can create folders or albums within your device's gallery and categorise your saved Stories accordingly. This way, you can quickly locate and revisit your favourite memories accompanied by your preferred music tracks. Additionally, you can share these saved Stories on other social media platforms or use them to create compilations or highlight reels to showcase your most memorable moments.
FREQUENTLY ASKED QUESTIONS
Can you save Instagram stories with music?
Run the Instagram app and create a Story.
 Use the music sticker to add a song to your Story. 
Before posting the Story, tap the three-dot icon in the upper-right corner.
 Tap 'Save' and your Story draft will be downloaded to your gallery (with the music intact).
Conclusion
Saving Instagram Stories with music allows you to preserve cherished memories and share them in a more immersive way. By following the step-by-step guide provided in this article, you can confidently add music to your stories and save them for future enjoyment. Remember to use the recommended third-party app, Instagram Story Saver, to ensure a smooth and hassle-free experience. Now go ahead, create captivating stories, and keep those musical moments alive!
Read Also : A Step-by-Step Guide How to Disable Your Instagram Account