Unlocking The Benefits A Step-by-Step Guide to Subscribing to Amazon Prime
3 min read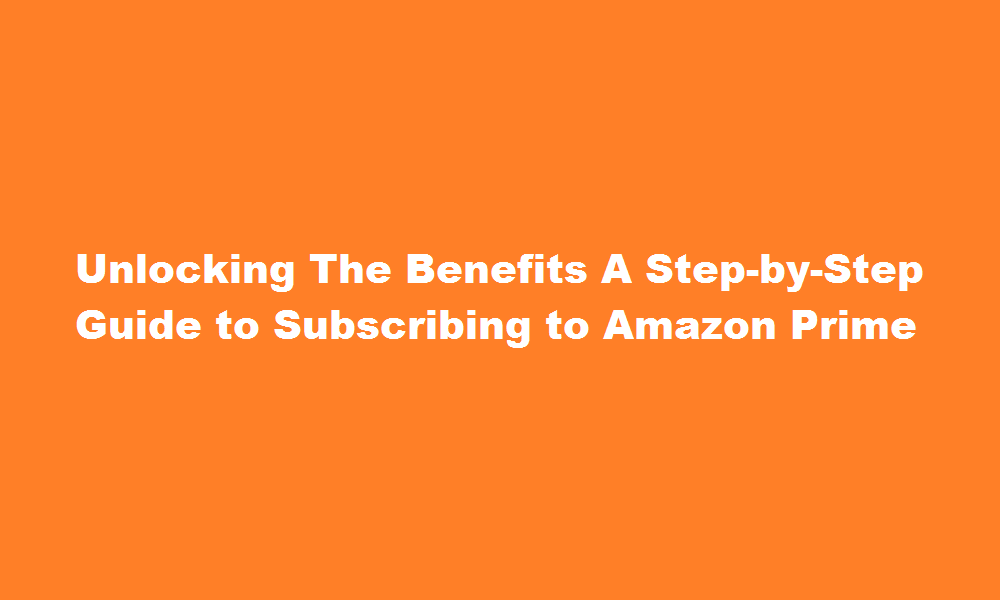 Introduction
In today's fast-paced digital world, Amazon Prime has become a go-to subscription service for millions of people worldwide. Offering a plethora of benefits, including free and fast shipping, access to a vast library of movies and TV shows, exclusive deals, and much more, Amazon Prime has revolutionized the way we shop and consume entertainment. If you're ready to take advantage of these perks, this article will guide you through the simple process of subscribing to Amazon Prime.
Understanding Amazon Prime
Before diving into the subscription process, let's briefly explore the benefits of Amazon Prime. As a member, you'll enjoy free two-day shipping on eligible items, access to Prime Video streaming service, unlimited photo storage, early access to lightning deals, and the ability to borrow Kindle books. Additionally, Amazon Prime offers exclusive discounts on products, access to Prime Music, and free same-day or one-day shipping on select items in eligible areas. By subscribing, you gain access to a wealth of services that enhance your online shopping and entertainment experiences.
Creating an Amazon Account
To subscribe to Amazon Prime, you'll need an Amazon account. If you don't have one, visit www.amazon.com and click on the "Hello, Sign in" button located at the top-right corner of the homepage. Follow the prompts to create a new account by providing your name, email address, and password. Once you've completed the registration process, you're ready to proceed with the subscription.
Choosing a Prime Membership Plan
Amazon Prime offers different membership plans to suit your needs. The two primary options are the annual plan and the monthly plan. The annual plan provides a significant cost-saving advantage over the monthly plan. However, if you prefer a more flexible payment schedule, the monthly plan may be a better fit. To choose your desired plan, visit www.amazon.com/prime and click on the "Try Prime" button. Select your preferred plan and click on "Continue." Keep in mind that some countries offer additional Prime plans tailored to their local markets.
Providing Payment Information
After selecting your desired Prime membership plan, Amazon will prompt you to provide payment information. You can use credit cards, debit cards, or select alternative payment methods depending on your location. Amazon takes privacy and security seriously, so you can trust that your payment details are protected. Follow the prompts to input your payment information accurately, and once completed, click on the "Continue" button.
Confirming Your Subscription
Before finalizing your subscription, Amazon will present you with an overview of the benefits and terms of the Prime membership plan you have selected. Take a moment to review the details and ensure everything is as desired. If you're satisfied, click on the "Start your 30-day free trial" or "Join Prime" button to confirm your subscription.
FREQUENTLY ASKED QUESTIONS
How do I get 50% off Amazon Prime?
The only thing you need to know is that you will need to submit proof that you qualify every year to keep this half-off offer. You can sign up for Half Off Amazon Prime and learn more HERE.
Can I get Prime for free?
Amazon Prime Free Trial members enjoy all the same benefits as paid members. If you haven't been an Amazon Prime member in the last 12 months, you can sign up for a free trial. To sign up for the Amazon Prime free trial, your account must have a current, valid credit card or a Venmo account.
Conclusion
 Subscribing to Amazon Prime opens a world of convenience, entertainment, and savings. By following the straightforward steps outlined in this guide, you can easily become a Prime member and unlock an array of benefits. From fast and free shipping to access to exclusive deals and a vast library of entertainment content, Amazon Prime enhances your online shopping experience and provides hours of entertainment. Embrace the power of Prime and elevate your digital lifestyle today.