Streamlining The Process How to Track Your PF Claim
3 min read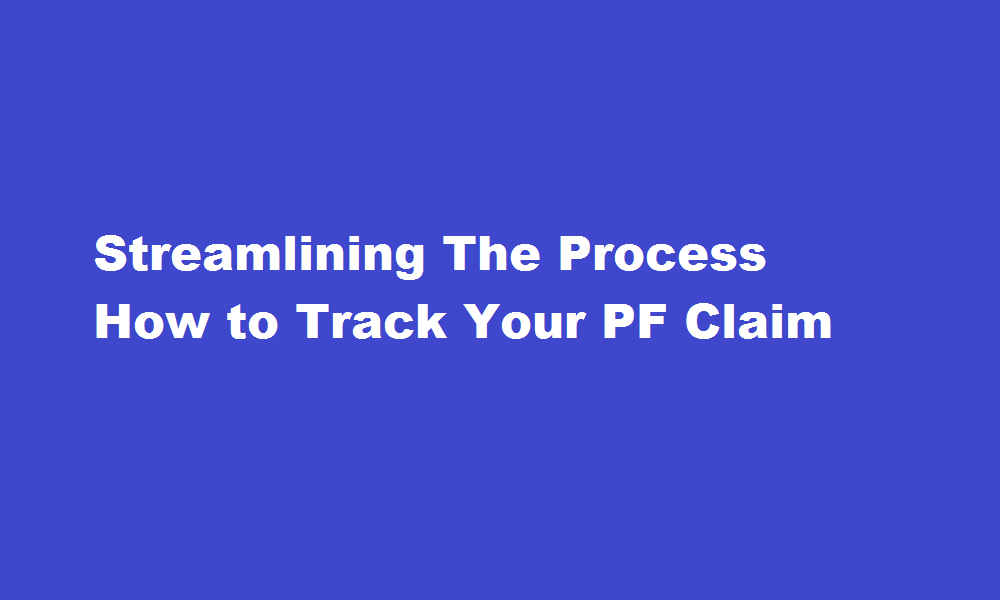 Introduction
Tracking your Provident Fund (PF) claim is an essential aspect of managing your financial resources. It ensures that you have a transparent view of the progress and status of your claim. This article aims to guide you through the process of tracking your PF claim effectively, providing you with valuable insights and resources to ensure a smooth and hassle-free experience.
Understand the Provident Fund
The Provident Fund is a government-backed retirement savings scheme in India, wherein both employees and employers contribute a portion of the employee's salary towards a fund. This fund accumulates over time and provides financial security and stability during retirement. Claiming your PF is an important step towards accessing these savings when needed.
Preparing for the PF Claim
Before initiating the PF claim tracking process, ensure you have the necessary documents readily available. This includes your Universal Account Number (UAN), employee ID, bank account details, and Aadhaar card number. Having these documents handy will streamline the tracking process and minimize delays.
Online Tracking
The advent of digitalization has made it significantly easier to track your PF claim status. The Employees' Provident Fund Organisation (EPFO) offers an online portal and mobile application for this purpose. Visit the EPFO's official website or download the mobile app and log in using your UAN and password. Once logged in, you can access your PF account details and track the progress of your claim. The online portal provides real-time updates, ensuring that you stay informed throughout the process.
SMS Tracking
If you prefer a simpler approach, EPFO offers an SMS-based tracking service. Send an SMS with the text "EPFOHO UAN" to 7738299899 from your registered mobile number. Replace UAN with your UAN number. Shortly after, you will receive an SMS with the current status of your PF claim. This service is particularly useful for individuals who may not have access to the internet or prefer a more convenient option.
EPFO Helpdesk
The EPFO has established a dedicated helpdesk to address queries and concerns related to PF claims. If you encounter any issues during the tracking process, you can reach out to the helpdesk via email, phone call, or online chat. They will assist you in resolving any concerns and provide additional guidance, ensuring a seamless experience.
Timelines and Expected Delays
It is important to note that the PF claim process may involve certain timelines and occasional delays. The EPFO aims to settle claims within 20 days of submission. However, external factors such as incomplete documentation or technical glitches can cause delays. By tracking your claim regularly, you can identify any potential roadblocks and take necessary action to expedite the process.
FREQUENTLY ASKED QUESTIONS

Why is my PF claim taking so long?
Here Are A Few Reasons Why PF claim is taking a long time Or Why PF Withdrawal is delayed. As a result, EPFO may require you to upload the scanned copy once more, which could cause a delay. Therefore, upload a crisp scan of the document with the bank account information.
How many days will it take to get an EPFO claim?
The EPFO aims to settle all claims within a period of 20 working days from the date of receipt of the claim. However, in practice, the time taken to settle a PF claim Form 19 can be more than 20 working days, and the actual time taken can vary based on the following factors.
Conclusion
Tracking your PF claim is a crucial step towards accessing your hard-earned savings. The online tracking facility, SMS service, and EPFO helpdesk provide convenient options to stay updated on the progress of your claim. By understanding the process and ensuring all required documents are in order, you can minimize delays and ensure a seamless experience. Take advantage of these resources and stay informed throughout the PF claim process, empowering yourself with financial knowledge and control.
Read Also : The Ultimate Guide How to Track Your PAN Card