A Step-by-Step Guide Linking Your Bank Account with Paytm
4 min read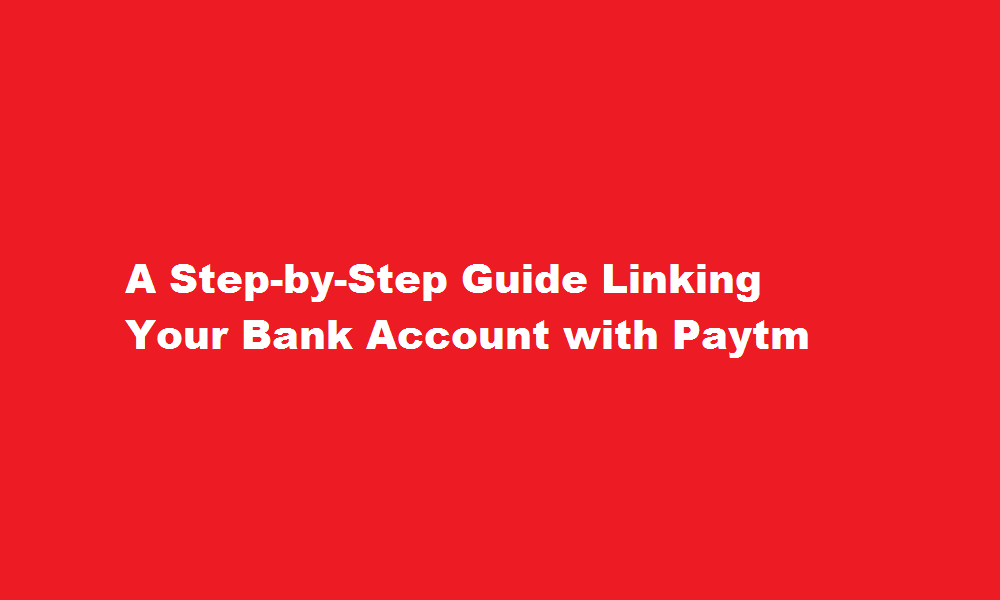 Introduction
In the age of digital transactions, mobile payment platforms have revolutionised the way we handle our finances. Paytm, one of India's leading mobile wallets, provides a convenient and secure platform for making transactions. Linking your bank account to Paytm enhances the functionality of the app, enabling seamless transfers, bill payments, and more. In this article, we will guide you through the step-by-step process of linking your bank account with Paytm, ensuring a hassle-free experience.
Download and Install Paytm 
To begin, download the Paytm app from your smartphone's app store. Install the application and launch it. If you already have Paytm installed, ensure it is updated to the latest version for a smooth linking process.
Open the Paytm App and Log In 
Once the app is installed, open it and log in using your Paytm credentials. If you are a new user, create an account by following the on-screen instructions. Ensure that the phone number linked to your bank account is the same as the one registered with Paytm for a successful linkage.
Access the Main Menu 
After logging in, you will find the main menu on the top left corner of the Paytm app. Tap on the three horizontal lines or the menu icon to open it.
Select "Add Bank Account"
Within the main menu, scroll down and locate the "Bank Account" option. Tap on it to proceed to the bank linking section.
Choose Your Bank 
In the bank linking section, you will find a list of popular banks. Scroll through the options or use the search bar to find your bank. Tap on the respective bank's name to continue.
Select the Account Type 
After choosing your bank, you will be prompted to select the account type—savings or current. Choose the relevant option based on the type of account you hold with the selected bank.
Linking Your Bank Account
To link your bank account, Paytm provides multiple options. You can link your account through internet banking credentials, by scanning the bank's QR code, or by entering your account details manually. Choose the method that suits you best and follow the on-screen instructions to complete the process. Ensure that the entered information is accurate to avoid any linking issues.
Wait for Confirmation
Once you have entered the required information, Paytm will verify your details. This process may take a few minutes. Upon successful verification, you will receive a confirmation message stating that your bank account has been linked to Paytm.
Set a UPI PIN
To enable seamless transactions, you need to set a Unified Payments Interface (UPI) Personal Identification Number (PIN). This PIN will be required whenever you initiate a transaction through Paytm. Follow the instructions on the app to set your UPI PIN securely.
Start Using Paytm with a Linked Bank Account 
Congratulations! You have successfully linked your bank account with Paytm. Now you can start using the app for various transactions, including money transfers, bill payments, mobile recharges, and more. Enjoy the convenience and security that Paytm offers.
FREQUENTLY ASKED QUESTIONS
Can I link my bank account to Paytm without KYC?
Paytm Wallet is provided by Paytm Payments Bank Limited, which is regulated by the Reserve Bank of India. In order to use Paytm Wallet, users must complete a process called Know Your Customer (KYC).
Is Paytm accepting new users?
Paytm Payments Bank banned from adding new accounts! Vijay Shekhar Sharma founded bank has been banned from accepting new customers by RBI. The Reserve Bank of India barred Paytm Payments Bank, founded by One 97 Communications Ltd.
How can I activate Paytm wallet without KYC?
You can enter your Aadhar Card or PAN number in the App to activate your Paytm wallet. You only need to complete KYC if you want to send money from your wallet to another Paytm wallet or to any bank account.
Conclusion
Linking your bank account with Paytm opens up a world of possibilities for quick and secure transactions. By following the step-by-step guide outlined in this article, you can seamlessly integrate your financial accounts with the Paytm app. Remember to double-check the accuracy of the information you provide during the linking process. With your bank account linked, you can enjoy the ease and efficiency of digital transactions while maintaining financial security. Embrace the convenience of Paytm and simplify your financial transactions in today's fast-paced world.
Read Also : Streamlining Social Security A Step-by-Step Guide to Linking UAN with Aadhaar