Regain Access to Your SBI ATM Card A Step-by-Step Guide to Unblock it
3 min read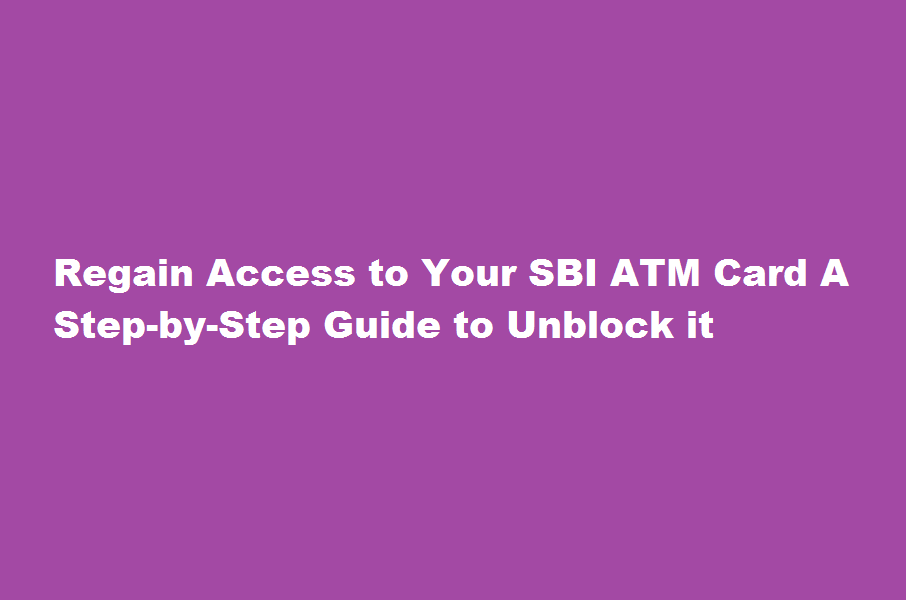 Introduction
If you find yourself in a situation where your State Bank of India (SBI) ATM card is blocked, don't panic. It's a common occurrence and can happen due to various reasons such as entering the wrong PIN multiple times or security concerns. In this informative article, we will guide you through the process of unblocking your SBI ATM card, ensuring you can resume seamless access to your funds without any hassle.
Understanding ATM Card Blocking
ATM card blocking is a security measure implemented by banks to protect customers from unauthorised access and fraudulent activities. When a card is blocked, it becomes temporarily unusable until it is unblocked. Blocking can occur for reasons such as entering the wrong PIN multiple times, suspicious activities, or if the bank suspects the card has been compromised. Unblocking your SBI ATM card is a straightforward process that can be done through multiple channels provided by the bank.
Step-by-Step Guide
Contact SBI Customer Care
The simplest and quickest way to unblock your SBI ATM card is by contacting the SBI Customer Care helpline. Dial the toll-free number specific to your region or the general helpline number (1800 425 3800 or 1800 11 22 11) to reach a customer care executive. Provide them with your account details and inform them about the blocked ATM card. They will guide you through the necessary steps to unblock it.
Visit the Nearest SBI Branch
If you prefer a face-to-face interaction or if the helpline is not accessible, visit the nearest SBI branch. Approach the customer service desk and explain the situation regarding your blocked ATM card. Provide them with your account details and any identification documents they may require for verification. The bank officials will assist you in unblocking the card and provide any further instructions if necessary.
Using SBI Internet Banking
If you have access to SBI Internet Banking, you can unblock your ATM card online. Log in to your SBI Internet Banking account using your credentials. Navigate to the "ATM Card Services" or "Debit Card Services" section, where you will find options related to card management. Look for the option to unblock your ATM card and follow the on-screen instructions to complete the process. Make sure to keep your registered mobile phone handy, as you may receive a One-Time Password (OTP) for verification.
SBI Mobile Banking App
SBI also offers a mobile banking app that allows you to manage your ATM card. Download and install the SBI Anywhere Personal app from your respective app store. Log in to the app using your credentials and navigate to the "Debit Card Services" or "Manage Debit Card" section. Look for the option to unblock your ATM card and follow the instructions provided. You may need to verify your identity using an OTP or other security measures.
Frequently asked questions
What happens if I entered the wrong PIN at SBI ATM 3 times?
Usage of the wrong PIN three times would invalidate the Card for the rest of the day. The Bank bears no liability for unauthorised use of the Card.
Conclusion
Having your SBI ATM card blocked can be inconvenient, but unblocking it is a simple process that ensures uninterrupted access to your funds. Whether you choose to contact SBI Customer Care, visit a branch in person, or use the convenience of internet banking or the mobile banking app, there are multiple avenues available to unblock your card. Remember to keep your account details and identification documents handy when contacting the bank. By following the steps outlined in this guide, you can regain access to your SBI ATM card swiftly and continue using it without any further interruptions.
Read Also :  Secure Your WhatsApp Account How to Log Out from Other Devices