A Step-By-Step Guide to Updating Your Bank Account in EPFO
3 min read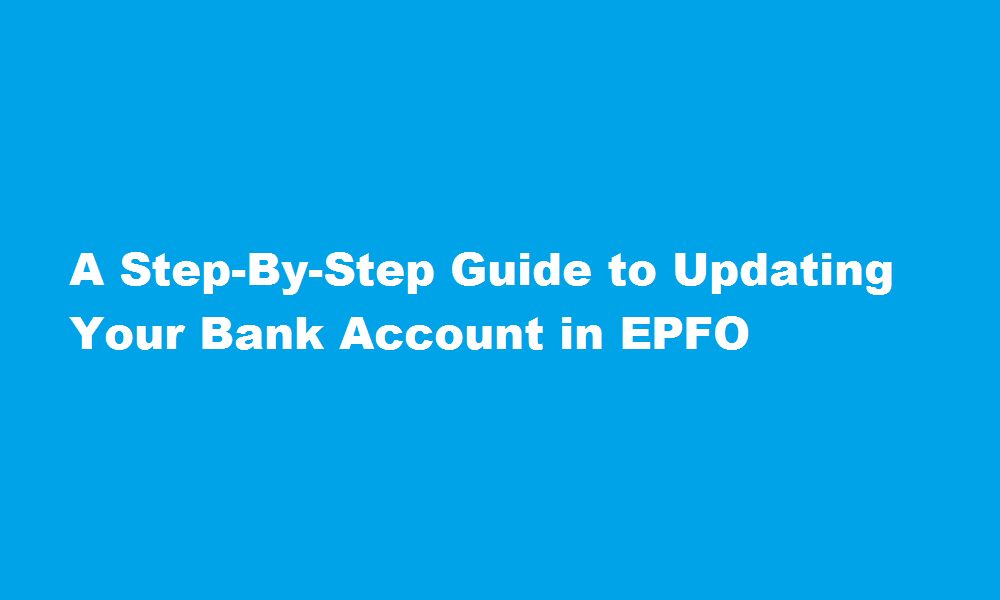 Introduction
The Employees' Provident Fund Organization (EPFO) is committed to streamlining processes for its members. One crucial aspect of managing your EPFO account is ensuring that your bank account details are up to date. In this article, we will provide a comprehensive guide on how to update your bank account in EPFO, ensuring smooth transactions and efficient management of your provident fund.
Access the EPFO Member Portal
To update your bank account in EPFO, you must first access the EPFO Member Portal. Visit the official EPFO website and navigate to the "Member Portal" section. If you are a first-time user, click on the "Activate UAN" option and follow the instructions to generate your Universal Account Number (UAN). Once you have your UAN, you can proceed to the next step.
Login to the Member Portal
Using your UAN and password, log in to the EPFO Member Portal. If you have forgotten your password, click on the "Forgot Password" link and follow the steps to reset it. After successful login, you will be redirected to the Member Dashboard.
Go to the "Profile" Section 
In the Member Dashboard, navigate to the "Profile" section. Here, you will find various options to manage your EPFO account. Click on the "Update Bank Account" option to proceed with updating your bank details.
Fill in Bank Account Information 
On the "Update Bank Account" page, you will be prompted to enter your new bank account details. Provide accurate information, including your bank account number, IFSC code, and bank branch name. Double-check the details to avoid any errors. Ensure that the bank account provided is in your name or jointly held. Once you have filled in the required fields, click on the "Verify" button to proceed.
Verification through Aadhaar
To authenticate the bank account update, EPFO requires verification through Aadhaar. You can choose from two options: OTP-based verification or offline verification. If you opt for OTP-based verification, make sure your mobile number registered with Aadhaar is active. Follow the prompts to generate and enter the OTP received on your mobile. Alternatively, you can select the offline verification method, which requires submission of a physical copy of the bank account details duly attested by your employer.
Confirmation and Approval
After the verification process, you will receive a confirmation message on the Member Portal. EPFO will review the updated bank account details, and upon approval, the new account will be linked to your EPFO profile. This process may take a few days, so it is essential to be patient. Once the update is approved, you will receive an SMS notification regarding the successful addition of your bank account.
FREQUENTLY ASKED QUESTIONS
Why am I unable to update bank details in the EPFO portal?
Your employer must approve the bank account information before it can be changed in EPFO's records. To expedite the procedure, the employee should request approval from his or her employer for the modification of bank account information in the EPFO's records.
Why is my bank account showing invalid?
If a bank rejects an ePayment transaction or a test transaction when adding a bank account, the bank account is marked as invalid and inactivated in BILL.
How can I approve my bank KYC in EPF?
Login to your EPF account at the unified member portal • Enter your bank account number and IFSC code. The details have to be approved by your employer. Once approved the bank account gets seeded.
Conclusion
 Updating your bank account details in EPFO ensures that you receive timely and accurate provident fund transfers. By following the step-by-step guide outlined in this article, you can easily update your bank account information in EPFO and avoid any disruptions in your financial transactions. Remember to provide correct information and complete the verification process to ensure a smooth and hassle-free experience with EPFO.
Read Also : Mastering Paragraph Alignment in Excel A Comprehensive Guide