The Step-By-Step Guide to Deleting Your Snapchat Account
3 min read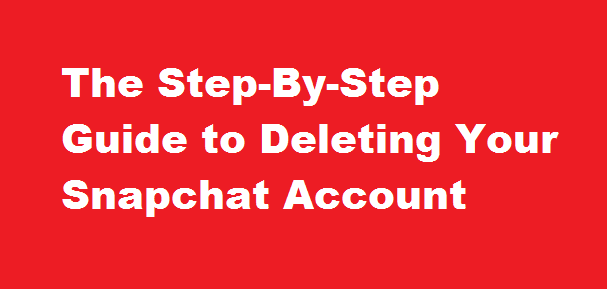 Introduction
Snapchat, a popular social media platform, has captured the attention of millions with its disappearing messages and fun filters. However, if you've decided it's time to move on from Snapchat, this article will guide you through the process of permanently deleting your account. By following these simple steps, you can ensure your personal data is removed and bid farewell to Snapchat for good.
Understanding Account Deletion
Before proceeding with the deletion process, it's important to understand what it entails. Deleting your Snapchat account means permanently removing all your data, including messages, photos, and friends. Once the account is deleted, there is no way to recover the information. Remember to take screenshots or save any important data before starting the deletion process.
Preparing for Deletion
To ensure a smooth deletion process, consider taking a few preliminary steps. First, review your account settings and save any essential information or media that you wish to retain. Additionally, notify your friends and connections on Snapchat about your decision to delete your account, so they can reach out to you through other means if needed. Finally, log out of all devices to ensure no one has unauthorised access to your account during the deletion process.
Accessing the Account Deletion Page
To delete your Snapchat account, you'll need to access the official account deletion page. Open your preferred web browser and go to https://accounts.snapchat.com. Sign in with your Snapchat username and password to proceed to the account management page.
Initiating the Deletion Process
On the account management page, scroll down to the "My Account & Security" section. Here, you'll find the option to "Delete My Account." Click on this link to initiate the deletion process.
Confirming Account Deletion
Snapchat takes account deletion seriously and wants to ensure it's your genuine intention to delete your account. Therefore, you'll be prompted to re-enter your username and password to confirm the deletion. Follow the instructions provided on the screen, including any additional security verification steps if required.
Finalising Account Deletion
After confirming your intention to delete the account, Snapchat will disable your account for a period of 30 days. During this time, your account will be in a deactivated state. If you change your mind within this period, you can log back in to reactivate your account. However, after the 30-day period, Snapchat will permanently delete your account, and all associated data will be removed from their servers.
Verification of Account Deletion
To ensure your account has been successfully deleted, try logging in after the 30-day deactivation period. If you receive an error message stating that your account no longer exists, it means your account has been permanently deleted.
FREQUENTLY ASKED QUESTIONS
Why can't I delete my Snapchat account?
ANS: You can't delete your account directly on an Android device. You'll instead have to log in to the accounts portal(Opens in a new window), enter your username or email and password. You'll come to a screen with a good-bye message.
Conclusion
Deleting your Snapchat account is a personal decision, and if you've made up your mind, following the steps outlined in this guide will help you accomplish it. Remember to save any important data, inform your contacts, and carefully follow the provided instructions to ensure a smooth and permanent deletion.
Read Also : Simplified Steps to Delete Your Gmail Account