A Step-by-Step Guide to Resetting Your UPI PIN
4 min read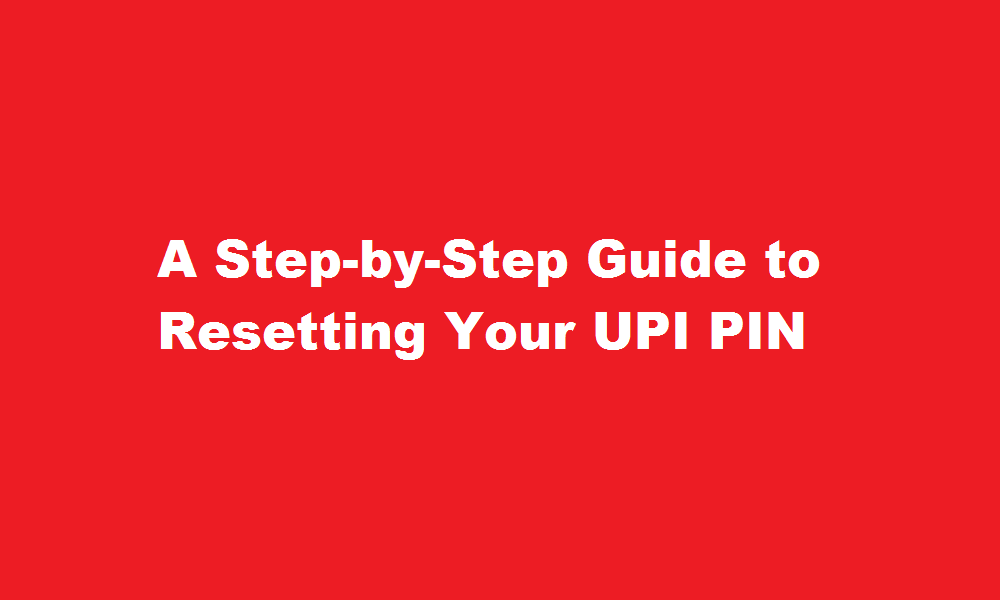 Introduction
Unified Payments Interface (UPI) has revolutionized the way we make digital transactions. However, forgetting or misplacing your UPI PIN can be a frustrating experience. In this article, we will guide you through the process of resetting your UPI PIN, ensuring that you can resume secure and convenient transactions with ease.
Understanding UPI PIN
UPI PIN is a crucial security feature that safeguards your UPI transactions. It is a four or six-digit numeric code used to authenticate payments and access UPI services. Each bank or UPI-enabled app allows users to set their unique UPI PIN during the initial registration process. It is essential to keep your UPI PIN confidential to prevent unauthorized access to your account and financial information.
Initial Troubleshooting Steps
Before proceeding with the UPI PIN reset, ensure that you have tried the following troubleshooting steps: a. Double-check if you entered the correct UPI PIN multiple times, as exceeding the maximum attempts can result in your UPI account being locked. b. Verify that you have an active internet connection, as a weak or unstable network may cause issues during the reset process. c. If using a UPI-enabled app, ensure that you have installed the latest version from a trusted source to avoid any compatibility issues.
Resetting UPI PIN through UPI Apps
Most UPI apps provide a built-in option to reset your UPI PIN. Follow these general steps: a. Open your UPI app and navigate to the UPI PIN reset or forgot UPI PIN section. b. Select the bank account associated with the UPI PIN you wish to reset. c. Authenticate your identity using methods such as account details, debit card information, or biometric verification. d. Follow the on-screen instructions to set a new UPI PIN. e. Confirm the new UPI PIN, ensuring it is unique and not easily guessable. f. Once the reset process is complete, you will receive a confirmation message, and your UPI PIN will be updated.
UPI PIN Reset through Customer Support
If you are unable to reset your UPI PIN through the app, you can reach out to your bank's customer support. Here's how: a. Locate the customer support contact details for your bank. b. Call or email the provided support channels, explaining that you need assistance with resetting your UPI PIN. c. Provide the required information, such as your bank account details, registered mobile number, and personal identification details. d. Follow any additional instructions provided by the customer support representative to complete the UPI PIN reset process. e. Ensure you note down the new UPI PIN provided by the representative and change it to a personalized PIN at the earliest.
FREQUENTLY ASKED QUESTIONS
Why is my UPI PIN not changing?
Keep in mind that if you enter a wrong UPI PIN more than 3 times, then you might not be able to change or reset your Google pay UPI PIN for 24 hours. You won't be able to send or receive money during this time. You can even reset your Google pay UPI PIN.
How do I unblock my UPI PIN?
If you forget your UPI PIN, you can reset the same by logging in to the application. Visit the 'UPI PIN' option and click on 'Forgot UPI PIN'. After providing a few of your details, you can reset your UPI PIN.
Why can't I reset my GPay PIN?
In the Google Pay (GPay) app, tap on your display image. The bank account of which UPI pin you want to change will appear when you select the Bank account. Now, after selecting your bank account, tap on Forgot UPI Pin. The app will now ask for some credentials.
Conclusion
In the age of digital payments, forgetting your UPI PIN can be stressful, but it's essential not to panic. By following the steps mentioned in this article, you can easily reset your UPI PIN either through the UPI app or by contacting your bank's customer support. Remember to keep your UPI PIN confidential and regularly update it for enhanced security.
Read Also : Resetting Google Home Mini A Step-by-Step Guide